New legal advice service for schools
A new legal advice service will help schools dealing with disruption due to the NUT/NASUWT work to rule campaign.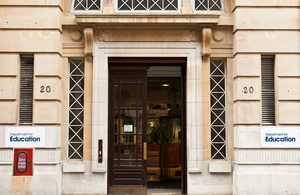 The advice service will be delivered by Addleshaw Goddard, a firm of solicitors, and will provide cost-effective and high-quality advice.
The service builds on advice previously made available on the Department's website and will help heads and employers to identify when teachers participating in the action are likely to be in breach of contract, and how they can make pay deductions in those circumstances.
The NUT and NASUWT have been encouraging teachers to undertake industrial action since 3 October 2012.
They have asked teachers to follow 25 instructions including refusing to provide more than one written report to parents per year and refusing to be observed teaching by school leaders for more than three hours per year. They are also calling on teachers to refuse to hand in lesson plans to senior management and refuse to undertake cover for other teachers under any circumstances.
In the great majority of schools, the industrial action is not having an impact, because teachers are instead focusing entirely on providing the best possible education for their pupils. A recent independent survey found that only 9% of teachers said that the NUT/NASUWT industrial action is having an impact in their school.
Where it is having an impact though, it is placing an unnecessary and unfair additional burden on teachers not participating in the industrial action. It also places a great deal of pressure on headteachers, governing bodies and academy trusts which are working hard to improve their schools.
David Laws, Minister of State for Education, said:
The vast majority of teachers are not taking part in this industrial action and are instead working hard to give their pupils the best possible education.
There are however a minority who are disrupting their schools. This is unfair on pupils, parents and school leaders and it is increasing the workload of colleagues who are not participating in this unjustifiable action. This advice service will give schools the reliable legal information they need to deal effectively with this kind of unnecessary disruption.
Amanda Phillips, Executive Headteacher, Culloden and Old Ford Primary Schools in Tower Hamlets, said:
I welcome this advice to schools. I don't support this industrial action and I think it is unfair on the majority of teachers who work very hard to give their pupils an excellent education. Teachers in my school have not been participating in the industrial action, but I know some schools have been targeted by unions and have been severely disrupted.
School leaders and chairs of governing bodies shouldn't have to pay full salaries to staff who are refusing to carry out their full duties, especially when it is putting pupils' education at risk. It is important for schools to have access to good legal advice especially when dealing with difficult industrial relations issues. High quality, accessible advice will be very welcome to school leaders and governing bodies.
The legal advice service will prevent confusion about the legality of breaches of contract. It is recognised that trade unions have a legitimate right to call on their members to take action as part of the dispute, even when employers do not believe that the dispute is well-founded. Likewise headteachers are entitled to clear advice about what steps they can take when faced with union members who are taking industrial action.
The survey that found 9 per cent of teachers said that the NUT/NASUWT industrial action is having an impact in their school was published in January and conducted by the National Foundation for Education Research in November 2012, with a representative sample of 1600 teachers.
DfE enquiries
Central newsdesk - for journalists 020 7783 8300
General enquiries - for members of the public 0370 000 2288
Published 7 March 2013