News story
New leadership for Student Loans Company
Appointment of interim chair and CEO to improve service to students.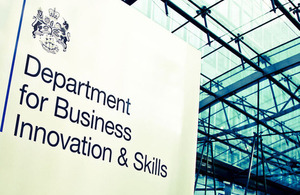 The Department for Business Innovation and Skills today confirmed changes to the management of the Student Loans Company (SLC).
The SLC is responsible for providing loans and grants to over one million college and university students in the UK.
John Goodfellow, the Chair of the SLC's Board is standing down, and Ralph Seymour-Jackson, the SLC's Chief Executive, has resigned.
Professor Sir Deian Hopkin has been appointed interim Chair.
Ed Lester has been appointed Interim Chief Executive.
Vince Cable, the Secretary of State for Business, Innovation and Skills, said:
"Last year's crisis in the Student Loans Company caused real upset for students and their families, many of whom lost confidence in the system. We must avoid a repetition of the problems.
"I believe the new Chair and Chief Executive will provide the fresh leadership needed to deliver the remaining changes necessary for an improved service to customers this summer."
David Willetts, Minister for Universities and Science, said:
"Last year the service fell short of what students and their parents had every right to expect. While improvements have been put in place since last year, we are not out of the woods yet.
"Having read the latest report on the SLC by PricewaterhouseCoopers, it is clear that urgent changes to the leadership are needed to ensure students get the service they deserve.
Students should continue to submit their applications online and to do so as early as possible.
**Links **
PWC report: Independent Health Check Review of Student Finance England (PDF, 631 Kb)
John Goodfellow letter to David Willetts (PDF, 25 Kb)
BIS press notice
Student Loans Company press notice

Published 25 May 2010