News story
New laws to support Good Samaritans move forward
Law changes designed to support Good Samaritans and community heroes yesterday moved a step forward.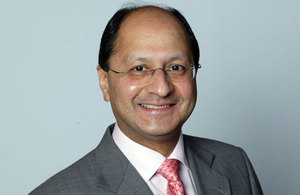 The government's Social Action Responsibility and Heroism (SARAH) Bill is currently being considered by Parliament, and yesterday completed the House of Commons stages. It can now move to the House of Lords for consideration.
The Bill is part of the government's ongoing commitment to supporting volunteers and has been designed to make sure people are not put off doing good deeds by worries about risk and liability if something goes wrong.
The law changes are being made to counteract the growing perception that it's too risky for people to participate in activities which benefit the common good – like leading a school trip, organising a village fete, clearing snow from a path in front of their home or helping in an emergency situation.
The reforms will mean that, if a person has been acting for the benefit of society, intervening to help somebody in an emergency or demonstrating a generally responsible approach towards safety during an activity, the court will take a full and sympathetic account of their actions in the event something goes wrong and they are sued.
Measures to be brought in will also put the law more clearly on the side of employers who do the right thing to protect employees if something does go wrong through no fault of their own.
Justice Minister Shailesh Vara said:
We want to make sure that people who have been doing the right thing by helping others or taking a generally responsible approach towards safety during the course of an activity will have this taken into account.

This will allay the fears about liability that can drive volunteers to take out insurance when they don't need to, force responsible employers to settle damages claims out of court rather run the risk of being found negligent, and stop passers by from stepping in to help people who are in difficulty.
Published 21 October 2014