News story
New law will see support extended to 50,000 more prisoners
A major gap in the criminal justice system that means 50,000 short-term prisoners walk out of prison with no support is finally being addressed, as the Offender Rehabilitation Bill received Royal Assent today.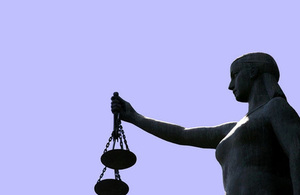 The new law means that, for the first-time, virtually all offenders will receive at least 12-month's supervision in the community on release from custody.
This crucial change will allow the Government to begin tackling the unacceptably high reoffending rates that have dogged this country for decades.
Justice Secretary Chris Grayling said:
"A staggering 85,000 crimes are committed every year by prisoners released from short sentences — this legislation means those offenders will now get the support they need to turn their lives around and start contributing to society, rather than damaging it.
"For too long we have released these prisoners back onto the streets with £46 in their pockets, and little else, in the hope they would sort themselves out – it's little wonder things haven't improved.
"Through our reforms to rehabilitation, we can start to turn the tide on this problem, and create a safer society with fewer victims of crime."
The Offender Rehabilitation Act introduces a number of further measures supporting the drive to reduce reoffending, including:
A new drug appointment requirement for offenders who are supervised in the community after release; and

An expansion of the existing drug testing requirement after release to include Class B as well as Class A drugs.
It also creates a more flexible Rehabilitation Activity Requirement for adult sentences served in the community which will give providers greater freedom to develop innovative ways to turn an offender's life around.
The new legislation goes hand in hand with the Government's wider reforms to probation, which will see the best of the public, private and voluntary sector working together to break the depressing cycle of crime too many are caught up in.
Under this approach, 21 new Community Rehabilitation Companies will work to turn round the lives of medium and low-risk offenders, drawing on experience from voluntary organisations as well as the private sector. A new National Probation Service will be tasked with protecting the public from the most high-risk offenders.
A nationwide network of resettlement prisons is also being created that will see the majority of offenders managed by the same provider in custody and the community. This will allow people working with offenders to lay the groundwork for rehabilitation behind the prison walls and continue that work in the community when they are released, encouraging a through-the-gate approach to rehabilitation.
The provisions in the Act will be implemented as part of our wider to reforms to probation. We expect to have providers in place and delivering services by 2015.
Notes to editors:
For more information visit www.legislation.gov.uk.

For more information please call the Ministry of Justice press office on 020 3334 3536.
Published 13 March 2014