Press release
New Law Officers appointed
The Prime Minister has appointed the Rt Hon Jeremy Wright MP as Attorney General and Robert Buckland MP as Solicitor General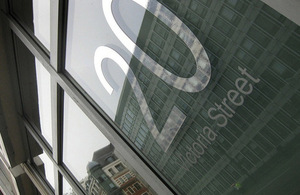 As the Government's senior legal advisors, the Law Officers (the Attorney and Solicitor General) will advise the Government and oversee the work of the independent prosecuting authorities, the Crown Prosecution Service and Serious Fraud Office.
Attorney General the Rt Hon Jeremy Wright MP said:
The office of Attorney General is a historic and important one. It is a great privilege to hold it, and the job is best done with energy and independence, as it has been by my many illustrious predecessors.
I look forward to all of the challenges that the role will bring, and to playing my part in an effective justice system and in maintaining this Government's commitment to the rule of law.
Solicitor General Robert Buckland MP said:
This is a huge privilege. I am delighted and honoured to have been asked by the Prime Minister to take on the role of Solicitor General. Since becoming an MP, I have taken a close interest in legal issues and have been pleased to help bring about some important reforms. As a barrister, I know how important this role is and I am looking forward to making sure that the public can continue to have full confidence in the justice system.
The Law Officers will also carry out a number of functions in the public interest, such as considering unduly lenient sentences, and take action when there has been a contempt of court. These functions are carried out independently of their role as Government ministers.
Notes to editors:
The Rt Hon Jeremy Wright is the Conservative MP for Kenilworth and Southam. He studied at the Inns of Court School of Law and was called to the bar in 1996, and practiced criminal law in the West Midlands. He served as a member of the Justice Committee and founded the All-Party Parliamentary Group on Dementia in 2007. He was made an Opposition Whip in 2007 and became a Government Whip in 2010. Most recently, he was Parliamentary Under-Secretary for Justice as Minister for prisons and rehabilitation.
He is married with a daughter and a son.
Robert Buckland was elected Member of Parliament for South Swindon at the General Election of 6th May 2010. Robert was born in Llanelli in 1968. He went to Hatfield College, Durham, graduating in Law in 1990. Robert attended the Inns of Court School of Law, where he was a prize winner for Advocacy and was called to the Bar at Inner Temple in October 1991. He returned to practice in Wales, most recently being a member of Apex Chambers in Cardiff. Robert is a door tenant at 23 Essex Street Chambers, London.
In 2009, Robert was appointed as a Recorder of the Crown Court, sitting on the Midland Circuit.
In 1997, Robert married Sian and their twin children were born in 2002. Robert's interests include music, wine, political history and watching rugby and cricket.
By convention Law Officers who do not already hold the title may be appointed Queen's Counsel. This is an established practice and the title has been conferred on a number of previous Law Officers upon taking office.
Published 17 July 2014