Press release
New law for missing persons gets Royal Assent
The Presumption of Death Bill received Royal Assent in Parliament yesterday.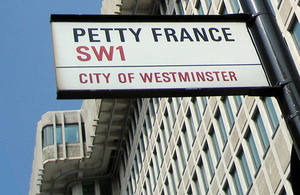 The Presumption of Death Bill received Royal Assent in Parliament yesterday meaning that families of missing people will be given new help to cope with the complex legal and financial issues they face.
The passing of the Act means a legal framework now exists for the creation of a presumption of death certificate scheme in England and Wales – bringing it in line with Scotland and Northern Ireland.
The presumption of death certificate will be equivalent to a death certificate so that those left behind can deal with the affairs of the missing person, such as stopping existing direct debits or gaining access to bank accounts.
Justice Minister Helen Grant said:
'No-one can prepare for the heartache and confusion which arises when a loved one disappears with no trace.
'The certificate of presumed death that we are introducing is a significant step forward for families who face the terrible situation of losing a loved one and creates a simpler legal framework to ensure bereaved people can better deal with the property and affairs of a loved one who has gone missing and is presumed dead.'
The Presumption of Death Bill which was supported by the Government was introduced by John Glen, MP for Salisbury, as a Private Members' Bill in the Commons, and sponsored by Baroness Kramer in the Lords. The new law follows plans announced by the Ministry of Justice in July 2012 to simplify the law around the affairs of those who are missing presumed dead.
Jo Youle, Missing People's Chief Executive, said:
'This is a momentous day for everyone who has campaigned for, and supported, the reform of presumption of death law. We are delighted that families facing the unimaginable pain of having a missing loved one will now have access to a fair and effective system.'
The Ministry of Justice and the General Register Office will now start work on creating the necessary rules and regulations to bring the scheme into force.
Notes to editors:
Read the Government's response from July 2012 to the Justice Select Committee report
The All-party parliamentary group (APPG) published a report in 2011 on runaway and missing children which informed the MoJ's response.
For more information from Missing People's press office please call 020 8392 4511.
In August 2012 new guidance was published by the UK Missing Person's Bureau
Published 27 March 2013