New law for missing persons
Families of missing people will be given greater support when a loved one goes missing.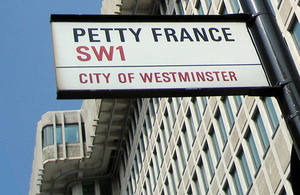 Families of missing people will be given greater support when a loved one goes missing with today's announcement that the Government will introduce a certificate of presumed death - through legislation. 
This certificate will be equivalent to a death certificate in its legal power and will go a long way in simplifying the processes and problems faced by those left behind. Having a presumption of death certificate in place will help families to deal with the array of legal and financial issues that need to be resolved when a person is missing and presumed dead, such as direct debits with a mobile phone company or access to bank accounts.
Justice Minister Jonathan Djanogly said:
'We recognise the emotional rollercoaster faced by families who are left behind. Having a family member disappear, with no trace, will always be a confusing and difficult time for any family to have to go through.
'The changes we are announcing today will ensure that there is a law in place that provides a simple legal framework by which families of missing people can receive the appropriate guidance and tackle the problems they face in a straightforward way.'
Updating the law on presumption of death is just one of the changes now underway following a number of recommendations by the Justice Select Committee. The Ministry of Justice is also working to prepare clear guidance on how to deal with the affairs of a missing person and this will be available to charities and other organisations that are likely to be contacted by the families of missing persons.  
Missing People Chief Executive Martin Houghton-Brown said:  
'We are delighted with the support that the Ministry of Justice is showing for legislation on presumption of death, and look forward to them identifying parliamentary time to make this legislation happen.
 
'This announcement shows significant intention to work towards a better future for families of missing people, representing huge step towards easing their heartache with clear legislative guidance.'
One of the recommendations from the committee was to introduce the power of legal guardian for missing people which would come into effect at an early stage. The Government will continue to consider the issue of guardianship and we are in discussions with the Law Commission about a possible detailed project on this subject.
Notes to editors:
For more information please call the Ministry of Justice press office on 020 3334 3536.

Read the full response.

Read the Justice Select Committee report from February 2012.
The APPG published a report in 2011 on runaway and missing children which informed the MoJ's response.
For more information from Missing Persons press office please call 020 8392 4511.
Visit the Missing Persons Organisation website.
Published 6 July 2012