World news story
New job opportunity at the British Embassy Asunción
The British Embassy seeks a full-time Trade, Press and Political Affairs Officer.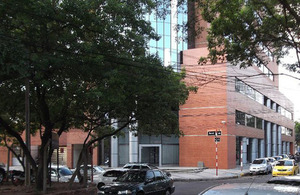 The British Embassy seeks a full-time Trade, Press and Political Affairs Officer to:
Identify and market significant trade opportunities for UK business, working closely with the local Chamber of Commerce.
Contribute to the Embassy understanding of the main political and economic trends in Paraguay and their relevance to UK interests.
Manage effective strategic communication campaigns that enhance the reputation of the UK and local understanding of UK government policies, priorities and views.
This is a senior and demanding position in the Embassy that requires a dynamic and flexible approach to changing priorities and a keen eye to identify and act quickly on areas of opportunity for the UK, particularly on the trade and investment side. The job holder will need an excellent understanding of the political, economic and business context in Paraguay and be able to identify key trends and their impact in Paraguay and the UK.
Applicants should have good and relevant experience of working in political affairs, business and/or media and strategic communication, preferably with some previous experience of working in the English language for an Embassy, international organisation, a company, or similar body. You need to be fluent in both written and spoken English and Spanish with good IT skills including use of social media. Your language and IT skills will be tested prior to interview if your application is shortlisted.
The British Embassy offers a competitive remuneration package, including salary, benefits, a leave entitlement and training. The successful candidate will be subject to confirmation of a background and security clearance. You must have pre-existing work authorisation for Paraguay in order to apply.
The British Embassy is an equal opportunities employer and does not discriminate on grounds of ethnic origin, race, religious beliefs, age, disability, gender or sexual orientation.
Applications should be submitted by e-mail to the British Embassy at BE-Asuncion.Enquiries@fco.gov.uk by close of business on Friday 15 November 2013. For the full job description and details of how to apply, please visit our 'Working for the British Embassy's page.
Published 1 November 2013