News story
New investment to secure 10,000 volunteers for 'get mentoring' scheme
With funding to recruit and train a further 5,000 mentors as part of a package of support for female entrepreneurs announced earlier this month…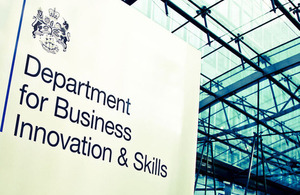 With funding to recruit and train a further 5,000 mentors as part of a package of support for female entrepreneurs announced earlier this month, as well as almost 11,000 business mentors already available through www.mentorsme.co.uk this investment will bring the total number of business mentors available through the new mentoring portal to around 26,000.
New grant funding of £1.2m will support the Small Firms Enterprise Development Initiative (SFEDI)'s new Get Mentoring scheme recruit 10,000 business volunteers from small and medium sized enterprises (SMEs).
Business Minister Mark Prisk, said:
"Businesses tell us they want to get advice from other experienced business people and we know that those seeking support are more likely to succeed.
"Mentoring can deliver significant economic benefits from just a small commitment of time and resources. Building a relationship with a mentor can have a positive effect on your business, whether you are just starting up or are already established.
"Boosting the number of mentors by another 10,000 will help more businesses get this valuable help and broaden the range of experienced people available through the online service."
Home Secretary and Minister for Women and Equalities Theresa May said:
"Mentoring is an effective way of helping businesses progress. It is about providing guidance, encouragement and exploring new ideas.
"We recently announced funding to create 5,000 mentors for entrepreneurs as part of a package of support for women's enterprise.
"I am delighted the government is investing in recruitment of an additional 10,000 volunteers to become mentors."
Mark Prisk launched the scheme at a speed-mentoring event at the British Library's Business & Intellectual Property Centre.
A range of private sector project partners including Institute of Directors, British Chambers of Commerce, Federation of Small Businesses and the Forum of Private Business are providing further support and time contributions worth up to an estimated £3.7m.
The project will unlock support from business representatives and other bodies to recruit volunteers and promote the benefits of mentoring to their members.
The Federation of Small Businesses' National Chairman John Walker said:
"We welcome involvement in this project. Mentoring is an extremely useful tool for all firms, and we know that start-ups that receive mentoring support are more likely to survive.
"It is important that mentors come from all walks of life, including those that have ran successful small businesses, so that they can offer a wide range of experience from different sectors for businesses to get the best out of their knowledge."
The announcement comes during Global Entrepreneurship Week - a week of events designed promote enterprise across the UK and internationally. The British Library's Business & IP Centre is hosting a series of events, including speed mentoring sessions.
The new mentoring portal, www.mentorsme.co.uk, was launched in the summer to give entrepreneurs access to mentoring from the experienced business people whose advice they most value.
It provides a single point of access for those seeking mentoring throughout the UK and is operated by the British Bankers Association (BBA).
The portal provides interested parties with a single, easy to use search engine to locate organisations that provide mentor services. The government and the BBA are working to give users access to existing mentoring organisations and networks under one umbrella.
Notes to editors
The Home Secretary delivered a speech to the Royal Commonwealth Society on women and the economy where she announced funding for 5,000 mentors for new and existing female entrepreneurs. The Home Secretary also announced the government will establish a Women's Business Council, to provide advice to government on what it can do to maximise women's contribution to future economic growth. http://www.homeoffice.gov.uk/media-centre/press-releases/women-at-the-heart-of-plans

The British Library Business & IP Centre opened in March 2006 and has had more than 250,000 visitors. The Centre provides free access to business and intellectual property information, supplemented by one-to-one advice clinics, practical workshops and networking events, featuring role model entrepreneurs. For more information on the British Library's mentoring events, please see www.bl.uk/bipc

BIS's online newsroom contains the latest press notices, speeches, as well as video and images for download. It also features an up to date list of BIS press office contacts. See [http://www.bis.gov.uk/newsroom](http://www.bis.gov.uk/newsroom) for more information.
Notes to Editors
Contact Information
Name BIS Press Office Job Title
Division COI Phone
Fax
Mobile
Email NDS.BIS@coi.gsi.gov.uk
Name William Dingli Job Title
Division Department for Business, Innovation and Skills Phone 020 7215 5950 Fax
Mobile
Published 16 November 2011