News story
New investment for business mentors
Mark Prisk announces new investment to recruit and train an additional 10,000 volunteers to become business mentors.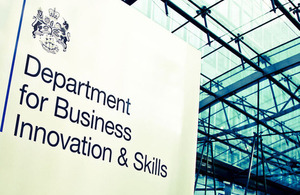 With funding to recruit and train a further 5,000 mentors as part of a package of support for female entrepreneurs announced earlier this month, as well as almost 11,000 business mentors already available through mentorsme.co.uk , this investment will bring the total number of business mentors available to around 26,000.
New grant funding of £1.2m will support the Small Firms Enterprise Development Initiative (SFEDI)'s new Get Mentoring scheme to recruit 10,000 business volunteers from small and medium sized enterprises (SMEs).
Mentorsme.co.uk allows you to use a single, easy-to-use search engine to locate organisations that provide mentor services. The government and the BBA are working to give users access to existing mentoring organisations and networks under one umbrella.
Mark Prisk, said:
"Businesses tell us they want to get advice from other experienced business people and we know that those seeking support are more likely to succeed.
"Mentoring can deliver significant economic benefits from just a small commitment of time and resources. Building a relationship with a mentor can have a positive effect on your business, whether you are just starting up or are already established."
Mark Prisk took part in a live webchat on the new announcements and support for business with Business Zone on the morning of 16 November. You can replay the full discussion here.
Mentoring
The new mentoring portal, mentorsme.co.uk, was launched in the summer to give entrepreneurs access to mentoring from the experienced business people whose advice they most value. It provides a single point of access for those seeking mentoring throughout the UK and is operated by the British Bankers Association (BBA).
It provides a single point of access for those seeking mentoring throughout the UK and is operated by the British Bankers Association (BBA).
Find out what people are saying on the project
John Walker, National Chairman, Federation of Small Businesses:
"We welcome involvement in this project. Mentoring is an extremely useful tool for all firms, and we know that start-ups that receive mentoring support are more likely to survive.
"It is important that mentors come from all walks of life, including those that have ran successful small businesses, so that they can offer a wide range of experience from different sectors for businesses to get the best out of their knowledge."
Dr Adam Marshall, Director of Policy - British Chambers of Commerce:
"We have long seen a need for more support for new and fledgling businesses. Many of them would benefit from having an experienced businessperson guide them through the current stormy economic waters."
"This project gives us the opportunity to facilitate the development of many more competent mentors, in turn helping more businesses thrive and grow."
Armando Pardo, Association of Community Based Business Advisers (ACBBA):
"Small business owners value talking to other entrepreneurs and we at ACBBA know from experience there is a lot of informal mentoring going on; we are happy to partner in a project that aims to enhance this form of support and mobilises and builds on the resources already present in the business community"
Stuart Anderson Shell Livewire:
"Shell LiveWIRE supports 1000s of young entrepreneurs each year. Our feedback shows that mentors are a key part of what many of them see as vital to support and growth of their business.
"Making access to mentors easy will enhance the prospects of many young people starting their journey as entrepreneurs and be a key factor for their success."
Tony Robinson, IOEE:
"All our research at the IoEE shows that informal mentoring is tremendously important and goes on day to day, helping business owners solve problems and seize opportunities as they arise. Having a mentor, or mentors, within your enterprise support network has proven invaluable to pre- start, start ups and existing small business owners.
"Mentoring reduces the mortality rate and increases the growth rate. At the IoEE we're very excited about this initiative to provide free training to small business owners that are willing to mentor others. It is an exact fit with how the Institute knows personal and business development takes place in enterprise and entrepreneurship. This will make thousands of our members into better mentors who will be able to help each other to survive and thrive."
Madge Moore, LANTRA:
"Lantra, the Sector Skills Council for the Environmental and Land based Businesses welcome the opportunity to be involved in this exciting initiative. Representing more than 260,000 businesses, the majority employing less than 5 people, Lantra recognise the need to encourage the development of services that support small businesses and business start ups such as this UK mentoring project.
"Mentoring, whilst appreciated by many businesses outside of the Land based sector, does not readily feature as a business support tool in the minds of many of our businesses. When businesses do consider using a mentor they often don't know where to go to find one. Having a network of mentors that can be easily accessed and who know the issues facing small businesses will be a welcome part of the holistic business support service Lantra is hoping to develop for the sector."
Dawn Whiteley, National Enterprise Network (NEN):
"The National Enterprise Network are delighted to be involved in this UK wide mentoring project, our members have always appreciated the great benefit that mentoring brings, as a valuable element of a holistic business support service.
"Many people want to be a mentor to others starting up or running their own business, but often don't appreciate exactly what is expected of them and what the boundaries are - this project is a great way for us to work with mentors to ensure that together we are providing a great opportunity to add value to the businesses we are supporting and in turn make their contribution to the much needed growth in the economy."
Malcolm Trotter, International Association of Book-keepers (IAB):
"The IAB applauds this initiative and has itself long campaigned for government funding to be provided to enable this type of vital support service by businesses for other businesses. IAB members have always appreciated the great benefit that mentoring brings, as many are themselves business owners and at initial start up and in the early stages of growth have benefitted from the support of more experienced IAB members and other entrepreneurs.
"This project will ensure that many more mentors are better prepared for their roles and therefore will improve and extend the mentoring available to new businesses. This will undoubtedly have a much needed, positive impact on UK business start-up success rates - benefitting not just the business owners, but the wider economy and employment."
Nick Bunting, PRIME:
"PRIME is committed to supporting older people into enterprise and we are therefore delighted to be involved in this national mentoring initiative. PRIME is the only national UK charity which helps the over 50s get back into work through self-employment.
"Mentoring is a key aspect of our work. Through this partnership we are able to extend our influence and provide greater support to those starting, developing and growing their business."
Joe Murray, Chief Executive, CDC Enterprise Agency:
"CDC Enterprise Agency are delighted to be involved in the delivery of this landmark mentoring project. Our experience shows that mentoring can have a profound impact on business growth and development and brings personal benefits to both the mentor and the mentee.
"We are particularly pleased to see the involvement of a diverse range of organisations involved in the project who are committed to make volunteer mentoring an integral part of business and enterprise support."
Links
Published 16 November 2011