News story
New interim Chief Executive of Skills Funding Agency announced
Ms Thorneywork has extensive experience in the further education sector, having worked as a Deputy Headteacher at a Technology College and as…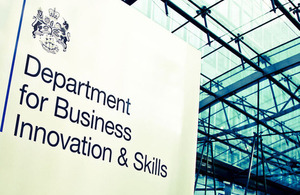 Ms Thorneywork has extensive experience in the further education sector, having worked as a Deputy Headteacher at a Technology College and as an Area Director for the Learning and Skills Council. More recently, she has worked at the Skills Funding Agency as a Senior Account Director and subsequently as Executive Director of Delivery.
She is taking over from Geoff Russell who has been in the Chief Executive position since April 2010.
John Hayes said:
"I am delighted that Kim Thorneywork has accepted the position of interim Chief Executive.
"Her wealth of experience in the sector and extensive knowledge of the Skills Funding Agency will be a valuable asset in this role.
"I would also like to thank Geoff Russell for his hard work and commitment in the role and wish him well in his retirement."
Kim Thorneywork said:
"Taking the Skills Funding Agency forward will be a privilege. I am delighted to accept the role of interim Chief Executive and I'd like to thank the Minister for putting his trust in my leadership.
"Geoff Russell's contribution to the sector has been very significant and I welcome the opportunity to build on that. My ambition is to work with the sector to meet the challenges of the future and to truly make skills work for England."
Geoff Russell said:
"I'd like to congratulate my successor and colleague, Kim Thorneywork, in her new role as interim Chief Executive.
"This is tremendous, affirmative news for the Skills Funding Agency and the sector. I am confident that Kim, along with the rest of the Executive Management Team, will help enable the sector to take FE to new levels of excellence."
**Notes for Editors
**1. The current statutory post of Chief Executive at the Skills Funding Agency is being filled on an interim basis until a legislative change has been made to replace the statutory post with a conventional Executive Agency. The intention to move the Skills Funding Agency to a conventional Executive Agency model was stated in a Written Ministerial Statement (issued on 20 December 2011). A permanent position will be filled once the legislative change has been made and the Framework Document establishing the roles and responsibilities of the new Agency has been agreed.
Kim Thorneywork is a chemistry graduate and began her career as a science teacher in Walsall. Her last teaching post was as a Deputy Headteacher in a Technology College. In 2003, she entered Local Government as a School Improvement Inspector, and is an Ofsted Accredited Inspector. In 2006, Kim joined the Learning and Skills Council as Area Director for Coventry and Warwickshire. At the launch of the Skills Funding Agency, she became Senior Account Director for the West Midlands, with a portfolio of 33 FE colleges and over 160 training organisations; accountable for both the adult skills budget, including Apprenticeship funding, allocated to these organisations and West Midlands European Social Funding. In May 2011, she was appointed to the post of Executive Director of Delivery, and in this post has led the Skills Funding Agency work on funding policy, investment and provider performance.

BIS's online newsroom contains the latest press notices, speeches, as well as video and images for download. It also features an up to date list of BIS press office contacts. See http://www.bis.gov.uk/newsroom for more information.
Notes to Editors
Contact Information
Name BIS Press Office Job Title
Division Department for Business, Innovation & Skills Phone
Fax
Mobile
Email bispress.releases@bis.gsi.gov.uk
Name Victoria Heath Job Title Ms Division Department for Business, Innovation & Skills Phone 020 7215 5950 Fax
Mobile
Published 30 May 2012