News story
New Intellectual Property Attaché in China will support UK businesses
Tom Duke is the former head the IP Centre at the European Union Chamber of Commerce in South Korea. He will be based at the British Embassy …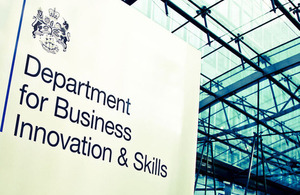 Tom Duke is the former head the IP Centre at the European Union Chamber of Commerce in South Korea. He will be based at the British Embassy in Beijing and will be working alongside UKTI and British businesses operating in China to provide support and advice on industry concerns about the enforcement of IP rights.
Minister for Intellectual Property Baroness Wilcox announced the appointment at the first UK-China Symposium held in London today.
Baroness Wilcox said:
"The Chinese market presents a great opportunity for UK businesses - in 2010 trade between the two nations was worth an estimated £42 billion. By appointing our first IP Attache in Beijing it will provide a physical presence for British businesses and help to build relations with intellectual property agencies in China.
"We need an efficient global intellectual property system where businesses have the confidence to trade in growing markets. I'm delighted that we have been able to agree to share information and ensure that intellectual property rights both here and in China are enforced robustly."
Tom Duke said:
"This is a fantastic chance to work closely with UK businesses and build on our already strong links in China. I am looking forward to playing an important role in addressing the intellectual property protection and enforcement issues that have been raised by UK companies."
UK companies are often put off from dealing in China due to fears that their intellectual property will be appropriated. Speaking at the Symposium Baroness Wilcox announced that the UK and Chinese Governments have agreed to hold an annual meeting between all relevant IP authorities to share information and support businesses.
The Symposium was announced by Prime Minister David Cameron during the China Summit in July 2011. Commissioner Tian Lipu, Minister from the State Intellectual Property Office of the People's Republic of China (SIPO) was in attendance along with around 60 senior UK business leaders and senior representatives from the Chinese business community.
Note to editors:
The UK-China IP Symposium was held at the St Pancras Renaissance Hotel today (8 December 2011).

Tom Duke is the first posting in the UK international IP attache network. Tom brings a detailed knowledge of Asia-Pacific IP enforcement and China specific expertise. He also has a track record of working proactively to address industry IP concerns in Asia, and will work with the existing UKTI and FCO networks to improve the IP protection and enforcement environment for UK stakeholders in China. Tom joins the UK IPO after heading the IP Centre at the European Union Chamber of Commerce in South Korea. He is fluent in Mandarin Chinese, and has a background in economics and Chinese industry analysis.

The Intellectual Property Office (IPO) is within the Department for Business, Innovation and Skills (BIS) and is responsible for the national framework of Intellectual Property rights, comprising patents, designs, trade marks and copyright.

Its role is to help manage an IP system that encourages innovation and creativity, balances the needs of consumers and users, promotes strong and competitive markets and is the foundation of the knowledge-based economy.

The IPO operates in a national and an international environment and its work is governed by national and international law, including various international treaties relating to Intellectual Property (IP) to which the United Kingdom is a party.

For further information, please contact Dan Palmer on 0207 215 5303 or e-mail dan.palmer@bis.gsi.gov.uk.
Notes to Editors
Contact Information
Name BIS Press Office Job Title
Division COI Phone
Fax
Mobile
Email NDS.BIS@coi.gsi.gov.uk
Name Dan Palmer Job Title
Division Department for Business, Innovation and Skills Phone 020 7215 5303 Fax
Mobile
Published 8 December 2011