New Independent Chief Inspector of Borders and Immigration, David Bolt, takes up post
David Bolt officially took up his post on 1 May 2015. He has been appointed for a fixed term of 2 years.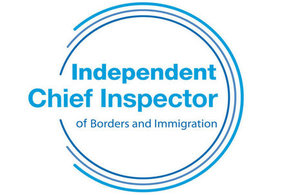 Mr Bolt, who has held senior positions in the arenas of national security and crime-fighting, including at the National Criminal Intelligence Service (NCIS) and the Serious Organised Crime Agency (SOCA), will continue the important work of scrutinising the effectiveness and efficiency of border and immigration operational practices.
Important role of the Inspectorate
David Bolt, Independent Chief Inspector of Borders and Immigration:
The Inspectorate's role in providing detailed, independent scrutiny of the UK's border and immigration functions is vital. Since its inception in 2005 the Inspectorate has acted as a catalyst for improvement across these functions.

I am delighted to have been appointed as Independent Chief Inspector and aim to maintain the high standards set by my predecessor John Vine and the Inspectorate he built.
Mr Bolt's predecessor, John Vine, was the first Independent Chief Inspector and occupied the role for almost 7 years before stepping down at the end of December 2014.
Career
Prior to his appointment as Independent Chief Inspector, Mr Bolt spent 5 years as Chief Executive of the International Federation of Spirits Producers (IFSP) Ltd, which works to combat the counterfeiting of its members' distilled spirits.
Between 2006 and 2010 he was Executive Director of Intelligence at Serious Organised Crime Agency, with responsibility for knowledge management, tasking and co-ordination and covert collection.
He was Deputy Director General at National Crime Intelligence Service between 2001 and 2006, with responsibility for the Corporate Governance Division and Strategic Intelligence.
From 2001 to 2010 he edited of the annual UK Threat Assessment of Organised Crime.
Prior to 2001, for 25 years Mr Bolt was a member of the Security Service, serving in a range of operational and policy roles, from Executive Officer to Assistant Under Secretary (Director).
Published 16 May 2015