News story
New ideas for business finance
Government to explore new and innovative ways for business to access finance.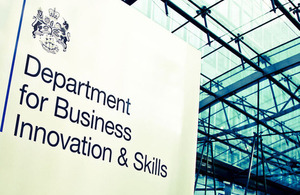 Chancellor George Osborne and Business Secretary Vince Cable have launched a Green Paper on business finance.
The paper starts a consultation with business on ways to access funding to help them expand and create new jobs to grow the economy.
The Government recognises that companies face a range of problems in accessing finance and wants to work with business and financial sectors to find solutions.
Business Secretary Vince Cable said:
"I've heard the problems businesses are facing in getting bank loans up and down the country. They need innovative ways to access finance from other sources to grow our firms and economy. That's why this green paper is so important as we look to help viable firms get the money they need."
Chancellor of the Exchequer George Osborne said:
"As the economy recovers, it is crucial to ensure that the supply of finance supports rather than constrains demand and business confidence. If businesses are to play their part in promoting economic recovery it is important that they are able to access a diverse range of finance choices in a stable macroeconomic environment."
Images
Images of the Green Paper press conference are available for download via the BIS Flickr album.
Links
Published 26 July 2010