New headquarters for Kent Family Mediation Service
Divorcing couples will be able to work through break-ups more quickly and cheaply after the opening of new Kent Family Mediation Service HQ.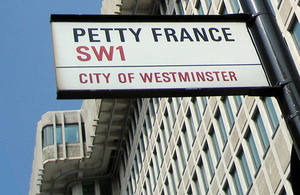 The charity's new offices in Sittingbourne will serve the Swale area and provide a centre point for the countywide service, which also operates in Maidstone, Gravesend, Canterbury, Gillingham, Chatham and Royal Tunbridge Wells. 
The headquarters in London Road was officially opened today by Justice Minister Jonathan Djanogly during a ceremony staged at the nearby Swale Borough Council chamber in East Street.
The expansion of the service has come at a time when Government has encouraged more people to make use of mediation, a way for separating couples to arrange the details of their divorce without the need for a court battle.
Speaking before the opening Mr Djanogly said:
'Every time I ask someone if their drawn out, difficult divorce battle through the courts was worth it, their answer is no.
'Mediation can be a quicker, cheaper and much less stressful alternative. Whether it's who gets what, or even child custody and care, mediation can help ex-couples to draw up their areas of disagreement and find workable solutions.
'Ex-partners don't have to attend mediation together or compromise where they don't want to. A trained professional will help them work out where they agree, where they don't, and where they might negotiate.
'Mediation enables ex-partners to have the chance to create solutions that work best for them and any children. They keep control of the process rather than ending up having an order imposed on them by a court, that one or both sides may not be happy with.'
The not-for-profit KFMS was first set up in 1983 and has grown to now include 10 mediators and five support staff. They began the move to the new office in October and can now use new meeting and training rooms. As well as providing mediation they will also run parenting classes for parents who are in conflict.
Joan Bishop, KFMS Head of Mediation Practice, said:
'Mediation helps separated families move on whilst continuing strong ties with other family members and friends.
'In a challenging and lonely time, mediation offers support in creating the best outcomes for everybody involved.'
Among KFMS's supporters are Resolution, an organisation of 5,700 family lawyers nationwide who support non-confrontational approaches to family law. The group presented KFMS with a charitable donation of £500 at the opening ceremony.
Dawn Harrison, a member of Resolution and a lawyer at Whitehead Monckton in Maidstone, said:
'My primary training has been as a lawyer but having trained and worked with Kent Family Mediation as a mediator as well, I can speak first hand of the benefits that mediation can offer to families. 
'Kent lawyers are pleased to support our mediation colleagues at KFMS'
Mediation is a voluntary and confidential process which enables people to agree a way through their problems and make arrangements that everyone can live with.
Currently, many people go to court repeatedly to argue over small matters like 30 minutes extra contact time with their children or varying contact days.
Mediation allows them to explain their concerns and needs in the presence of a qualified mediator, giving them the opportunity to communicate directly with each other, rather than via solicitors or across a courtroom. It is then they, rather than a judge, who decide a mutually acceptable outcome.
Statistics show mediation has proved to be quicker and cheaper in many cases. Mediated family cases take 110 days on average to complete, compared to 435 days for non-mediated cases going through courts. Meanwhile Legal Services Commission figures for private family law children and finance cases funded through Legal Aid show an average cost per client of £535 in mediated cases compared to £2,823 in court cases.
Notes for editors
For further information contact Peter Morris on 0203 334 3531 or peter.morris@justice.gsi.gov.uk
For further information on Kent Family Mediation Service please contact 01795 410457. There are several other providers of mediation services for both family and civil cases in Kent: More information on family mediation and links to finding other providers nationwide
Published 11 February 2011