News story
New Groceries Adjudicator to protect suppliers from unfair treatment by supermarkets
The new body is being established to enforce the Groceries Code after the Competition Commission identified competition issues in their 2008…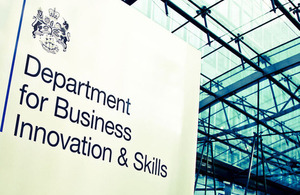 The new body is being established to enforce the Groceries Code after the Competition Commission identified competition issues in their 2008 market study. In particular it concluded that the market dominance of big supermarkets led to some suppliers being treated unfairly in the UK and overseas.
Establishing an Adjudicator would beef up protection for farmers and suppliers in ensuring that large retailers treat them fairly by lawfully adhering to the Groceries Code. In particular the Adjudicator would be able to:
arbitrate disputes between retailers and suppliers
investigate confidential complaints from direct and indirect suppliers, whether in the UK or overseas, and from third parties, to end the 'climate of fear'
hold to account retailers who break the rules by 'naming and shaming' or, if Ministers agree it is necessary, fining supermarkets.
Business Minister Norman Lamb said:
"The large supermarkets have a lot of buyer power, and with power come responsibilities. Supermarkets will still be able to secure the best deals and to pass the benefits on to consumers, but they should also treat farmers and suppliers fairly and lawfully. This means paying them on time or not being able to scrap arrangements with farmers and suppliers at the drop of a hat.
"Free and fair competition is the key to a healthy market and by preventing retailers from transferring excessive risk to their suppliers we will support investment and innovation in the supply chain. In the long-term, that's in the best interests of everyone, especially the consumer.
"I have also responded to concerns from the Select Committee and others that trade associations should be able to complain to the Adjudicator and have amended the draft Bill to provide for this."
If a retailer is found to have breached the Groceries Code then the Adjudicator would have wide ranging powers to effect remedies such as:
* issuing recommendations to solve the dispute;
* naming and shaming the offenders by publishing information or
* imposing fines (if the Secretary of State considers that the other solutions aren't working and grants the Adjudicator this power)
In such a highly competitive market, these remedies, in particular the ability to 'name and shame' supermarkets, is likely to have a strong deterrent effect.
Agriculture Minister Jim Paice said:
"The Grocery Code Adjudicator will ensure fair play in the food supply chain to make all terms fair and balanced.
"The food industry is vital to our economy and this Government is committed to ensuring that all sectors of it are able to thrive while providing the best value and quality for consumers."
Food and Drink Federation Director General Melanie Leech, said:
"We need an effective Groceries Code Adjudicator to enforce the Groceries Supply Code of Practice and ensure suppliers have the confidence to come forward directly or through their trade associations.
"The Competition Commission findings were clear that unless the abuse of market power is addressed then businesses especially small and medium sized manufacturers will be less inclined to innovate and invest. We believe an Adjudicator will help to ensure that the food chain operates fairly and in the best interests of consumers in terms of choice and availability".
Notes to editors:
---
The bill and accompanying documents can be viewed on the parliament website at http://services.parliament.uk/bills/2012-13/groceriescodeadjudicator.html

The Groceries Code was created by Order of the Competition Commission in the Groceries (Supply Chain Practices) Market Investigation Order 2009. It is legally binding on retailers.

You can read the Competition Commission's report into the Groceries Market from 2008 at http://www.competition-commission.org.uk/assets/competitioncommission/docs/pdf/non-inquiry/press_rel/2008/apr/pdf/14-08

The Groceries Code applies to the 10 retailers with a turnover in the groceries market in excess of £1bn.

The Groceries Code was put in place by the Competition Commission in 2008 and obliges large retailers to:
deal fairly and lawfully with their suppliers;
not vary supply agreements retrospectively, except in circumstances beyond the retailer's control which are clearly set out in the supply agreement; and

pay suppliers within a reasonable time.

In addition, the Groceries Code:

limits large retailers' power to make suppliers change their supply chain procedures;
limits large retailers' power to make suppliers pay marketing costs and compensation for wastage;
requires large retailers to pay compensation for forecasting errors in certain circumstances;
limits large retailers' power to make suppliers obtain goods or services from third parties who pay the retailer for that arrangement;
limits large retailers' power to make suppliers pay them for stocking their products;
limits large retailers' power to make suppliers pay for promotions;
requires large retailers to take due care when ordering for promotions;
limits large retailers' power to make suppliers pay for resolving customer complaints; and

limits large retailers' power to 'de-list' suppliers in other words, to stop dealing with a supplier or make significant reductions to the volume of purchases from a supplier.

BIS's online newsroom contains the latest press notices, speeches, as well as video and images for download. It also features an up to date list of BIS press office contacts. See http://www.bis.gov.uk/newsroom for more information.
Notes to Editors
Contact Information
Name BIS Press Office Job Title
Division Department for Business, Innovation & Skills Phone
Fax
Mobile
Email bispress.releases@bis.gsi.gov.uk
Name Ed Smith Job Title
Division Department for Business, Innovation and Skills Phone 020 7215 5945 Fax
Mobile
Email ed.smith@bis.gsi.gov.uk
Published 11 May 2012