World news story
New Governor sworn in on Wednesday, 9 October 2013
Peter Beckingham will be sworn in at the Turks and Caicos Islands House of Assembly Building on Grand Turk, the nation's capital.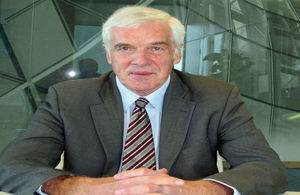 Immediately after the ceremony, he will host his first news conference in the Islands at his official residence, Waterloo. There will be a reception there in the evening also where he will introduce himself to key figures from TCI political, commercial and civic life.
Business, trade and development have been central themes of Beckingham's diplomatic career, and he is also very much looking forward to meeting with the Islands' business groups and enterprises at the earliest opportunity to investigate opportunities.
A longer term, formal programme of meetings is being arranged with key positions, such as the Deputy Governor, the Premier, Chief Financial Officer, Cabinet, as well as the constitutional bodies: the Royal Turks and Caicos Island Police Force, the Director of Public Prosecutions, the Human Rights Commission, the Integrity Commission, the Complaints Commissioner, the Public Service Commission and the Supervisor of Elections.
Peter Beckingham was previously Deputy High Commissioner in India, heading the Mumbai –Western Indian offices. His other UK overseas appointments include Ambassador to the Philippines (and non-resident Ambassador to Palau, Micronesia and the Marshall Islands), Consul-General and Director-General of Trade and Investment Sydney, and Director British Information Services New York. He was a Director of the Joint FCO/DTI Export Promotion Directorate in London, ran the commercial section of the Embassy in Stockholm, and had a short-term secondment to Cadbury-Schweppes.
The previous Governor of the Turks and Caicos Islands, Ric Todd, is to become the next British High Commissioner to Cyprus in April 2014.
Published 25 September 2013