News story
New global sports business feature launched at SportAccord 2014
UKTI showcases its new global sporting business feature on Open to Export at the 2014 SportAccord convention in Turkey.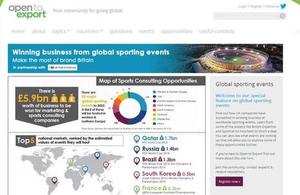 UK Trade & Investment (UKTI) has partnered with Open to Export, the UK's export community site, to launch a special ongoing feature on winning major global sporting business.
The new feature was showcased last week by UKTI at its UK pavilion at the 2014 SportAccord convention in Belek, Turkey.
The UK and world class sporting events
The UK has earned a reputation for organising first class sporting events built on strong participation and spectator interest. These sporting events include:
year-round events like the Premier League
annual events such as the FA Cup Final, Royal Ascot and Wimbledon
once in a generation global mega events like the London 2012 Olympic and Paralympic Games or Glasgow's hosting of this year's Commonwealth Games
The UK's expertise in staging big international sporting events is world class – skills which UK companies are keen to offer sporting events organisers all around the world.
UK companies have partnered with local firms and organising committees in every major sporting event from Sydney to Sochi. Many more are supporting host and bid cities for future Olympic Games and World Cup tournaments.
Winning global sports business
The new global sporting information found on Open to Export covers a range of topics including:
advice from industry experts such as sports market intelligence firm, Sportcal
case studies from companies such as Camelot Silverware, explaining how they have maximised global opportunities to win sports business overseas
details of forthcoming UKTI sports trade missions and other events
access to a toolkit to guide UK businesses though the various Brazilian procurement processes surrounding supplying the Rio 2016 Olympic and Paralympic Games
registration to take part in an interactive Q&A area, where users can post export-related questions and receive answers from Open to Export's community of public and private sector advisors and industry experts
British Business Club
The Open to Export global sports feature replaces the online British Business Club and aims to help more UK companies take advantage of lucrative global sporting opportunities.
The British Business Club was an online network launched to coincide with the London 2012 Olympic and Paralympic Games. It was created by UKTI, London & Partners, the London Business Network and the Department for Business, Innovation and Skills (BIS) on behalf of the UK wide London 2012 business network.
Open to Export
Open to Export is the government supported free, online community for UK companies looking to grow internationally.
It brings together experts from across the private sector and government agencies to help small and medium sized UK businesses successfully enter international markets. Users can gain practical insights on international trade topics from articles, videos, webinars and special features, as well as getting bespoke advice from experts in the Q&A forum.
The content is produced by users and industry experts, and anyone who has value to offer exporters can contribute. Open to Export is a not-for-profit community interest company (CIC) and works in close collaboration with UKTI.
2014 SportAccord convention
UKTI's Global Sports Project Team arranged for a delegation of UK companies to attend the convention. This was part of its ongoing programme to help UK companies to explore global sporting opportunities,
UK companies have been seeking to establish relationships with sports federations, potential business partners and future host and bid cities/countries. This includes Baku, Gold Coast, South Korea, Tokyo, and Lima all of whom were present at this event.
Published 15 April 2014