New funding to tackle female offending
Community projects that tackle female offending have been awarded £3.5m in funding, Justice Minister Crispin Blunt announced today.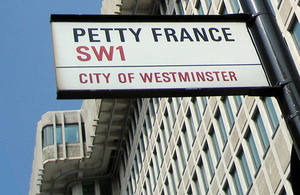 The one-year package will be funded by the National Offender Management Service (NOMS). It will be shared across 30 centres helping female offenders and women at risk of offending to turn away from a life of crime.
More than 5,000 women this year are expected to benefit from these centres, which focus on addressing the root causes of offending, including substance abuse and issues around domestic and sexual violence.
Crispin Blunt, Minister for Prisons and Probation, said:
'We are committed to tackling offending among women.
'I have seen first-hand a number of these centres in action and the challenging and impressive work they do in turning lives around and stopping offending.'
As part of the 2007 Corston Review, Baroness Corston made clear that women who do not pose a risk to the public must be diverted from custody. Since then, considerable work has been done to rehabilitate women through intensive community punishment coupled with support and these projects are the driving force behind this work.
You can listen to Baroness Corston talk about the funding on today's 'Women's Hour' programme on Radio 4.
Published 24 January 2012