New funding for local flood rescue teams
Rescue services in England and Wales are to receive funding to help equip and train local flood rescue teams.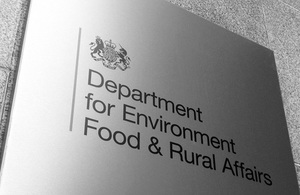 The Department for Environment, Food, and Rural Affairs (Defra) has announced a total of £2million to improve flood rescue capability. Grants totalling approximately £650,000 have been awarded from the fund today.
The money will help local flood resilience teams' efforts to raise money to buy everything from boats and flood barriers to training sessions for flood rescue volunteers.
Announcing the new funding, Environment Secretary Caroline Spelman said:
"We have learnt from the floods we have experienced in recent years that the emergency response is most effective when public, private and voluntary groups work well together - and we saw this week in Cornwall how important it is for these groups to have well rehearsed plans in place.
"The money we're announcing today will help local flood rescue teams - such as fire and rescue services, police and the RNLI - to buy extra equipment or training which will be used in a rescue situation when the need arises."
All the equipment bought with the new money will be added to the National Asset Register of emergency resources that others can call upon in the event of a major flood.
Applications for the remaining funding can be made to Defra until 31 January 2011.
The successful applicants were announced at a flood emergency response exercise at Hawley Lake in Hampshire, which involved fire and rescue crews, police, Army personnel and the Environment Agency. The event marks the launch of preparations for Exercise Watermark, a week-long national flood emergency exercise which takes place in March next year involving all Government departments.
Caroline Spelman added:
"Exercise Watermark stems from Sir Michael Pitt's recommendations following the 2007 floods which caused so much devastation and heartache. The government is committed to implementing those recommendations and working with communities to minimise the risks to people's lives and their livelihoods.
"The events taking place today and next spring when we carry out more emergency drills will help us to be as prepared as we can be for the dangers caused by floods."
Applications for the remaining funding should be made to Defra by 31 January 2011. For further information on how to apply please go to archive.defra.gov.uk/environment/flooding/planning/frne.htm
Notes
The successful applicants for flood rescue funding are: * Humberside Fire and Rescue Service (FRS) will receive £125,000 to provide four Powered Boat Teams for national use. * Hampshire FRS will receive £117,000 to provide 2 Powered Boat Teams for national use. * Devon and Somerset FRS will receive £75,000 to upgrade their assets to four Powered Boats. * West Yorkshire FRS will receive £30,000 to upgrade their assets to Powered Boats. * Northamptonshire FRS will receive £100,000 to provide two Powered Boat teams for national use. * The RNLI will receive £126,000 to support 16 Powered Boat Teams for national deployment in a flooding emergency. * Nottinghamshire Police will receive £26,000 for training and equipment for their Dive/Search/Flood Rescue Team, which will be deployed across the Midlands. * British Red Cross to receive £25,000 to support the maintenance costs of Bedford trucks, and training and equipment for individuals within the organisation. * A further £21,000 has been allocated to 11 flood emergency groups to make small adjustments to their emergency capabilities. They are Cheshire FRS (£2,817); Lancashire FRS (£546); Merseyside FRS (£1,164); Nottinghamshire FRS (£188); Ogden Valley Mountain Rescue (£331); RNLI (£912); SARA (£7,780); Shropshire FRS (£688); Staffordshire FRS (£1,990); Tyne and Wear FRS (£2,617); West Yorkshire FRS (£2,000)
Exercise Watermark is a national emergency flooding exercise organised by Defra and the Welsh Assembly Government that will take place on 4-11 March 2011. The exercise will test the arrangements across England and Wales to respond to severe, wide-area flooding.  It will be one of the biggest exercises to take place in the UK. The national exercise will be supported by regional exercises and locally based community activities.
More information on Exercise Watermark can be found at www.exercisewatermark.co.uk.
Published 18 November 2010