Press release
New fund to support joined up action on the environment
£7.2m committed to help farmers work better together through Countryside Stewardship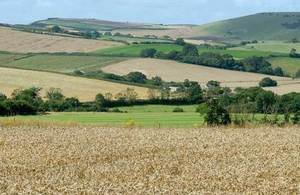 The farming minister George Eustice has today unveiled a fund of £7.2 million to support joint working among farmers to deliver Countryside Stewardship over wider areas.
The new fund will support coordinators to work with farms in the same geographical area to ensure the money spent on Countryside Stewardship grants makes the biggest impact. The new Countryside Stewardship scheme will be targeted to make sure that agreements deliver specific local priorities, such as the creation of wildlife corridors, which can help improve the natural environment's resilience. Encouraging farmers, foresters and land managers to work together, these coordinators will promote a landscape scale approach to addressing these local priorities.
Farming Minister George Eustice said:
If we are to maximise the impact of our new Countryside Stewardship scheme we must encourage the adoption of conservation measures across the wider countryside. This will support some of our fundamental aims such as reversing the decline in farmland birds and supporting wild pollinators.

This new fund will help to make the most of the £900 million that we intend to spend on Countryside Stewardship over the next few years.
The Facilitation Fund will build on the success of existing projects across the country that have proved the benefits of working together – such as restoring derelict ponds, improving wildlife habitats and mapping species of interest.
This Facilitation Fund is the latest in a series of RDPE grants that have been rolled out over the last month. The 2015 Water and Woodland Capital Grants will be used to improve water quality and create woodland, while the Countryside Productivity grants will help to will boost innovation. In all more than £26m has so far been committed to supporting our rural communities, with even more funding set to be available as the new Countryside Stewardship scheme is fully rolled out in July.
Further information
Published 17 March 2015