News story
New fund to invest at least £40m in UK companies
The new fund - Notion Capital - is the eleventh, and largest, Enterprise Capital Fund and £62.9m has already been committed to it from the first…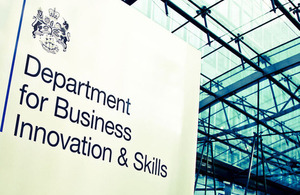 The new fund - Notion Capital - is the eleventh, and largest, Enterprise Capital Fund and £62.9m has already been committed to it from the first funding round. This includes substantial commitments from private investors, the Government and the European Investment Fund (EIF). The Notion Capital fund will target emerging, high-growth cloud computing and Software-as-a-Service (SaaS) companies.
Business and Enterprise Minister Mark Prisk said:
"It is absolutely vital that ambitious small firms can access the finance they need to expand and grow, and this new Enterprise Capital Fund will provide at least £40m of funding to viable UK high-tech businesses.
"Notion Capital is the largest Enterprise Capital Fund to date and will help a significant number of firms to grow and create jobs, boosting our economy."
Enterprise Capital Funds were established to address a market weakness in the provision of equity finance to SMEs. Government money is used alongside private sector funds to establish overall funds that target investments in SMEs of up to £2m.
Rory Earley, CEO of Capital for Enterprise Limited said:
"We have been very impressed by the ability of the Notion Capital team to bring to bear their extensive entrepreneurial and operational experience to enhance the businesses in which they invest.
"We are delighted that the team has reached first close with £62.9m in investor commitments. This result demonstrates the strength of the Enterprise Capital Fund programme and in particular the attractiveness of the Notion Capital fund."
John Holloway, Director Transaction and Relationship Management at the European Investment Fund said:
"A key aim of EIF is to support emerging fund managers in their development towards established market participants. With a first closing at £62.9m, EIF is not alone in recognising the merits of Notion Capital's strategy underpinned by their demonstrated ability to create value in their target market".
Notion Capital has a pan-European focus and will invest at least £40m in the UK, which means that the total investment guaranteed for UK companies is higher than for any previous Enterprise Capital Fund.
The Government has committed a total of £200m to the Enterprise Capital Fund programme in the four years up until 2014/15, and further funds will be announced in due course.
Notes to editors:
---
Notion Capital brings together a team of five experienced and successful entrepreneurs from the information technology sector. The team first established Notion Capital Partners as an FSA regulated organisation in 2008 following the sale of their former business MessageLabs, an email security company.

Notion Capital will target investment into internet-based services, which covers a range of areas including cloud computing and Software as a Service (SaaS), as well as other business models which utilise the internet in their service offering.

BIS's online newsroom contains the latest press notices, speeches, as well as video and images for download. It also features an up to date list of BIS press office contacts. See http://www.bis.gov.uk/newsroom for more information.
Notes to Editors
Contact Information
Name BIS Press Office Job Title
Division Department for Business, Innovation & Skills Phone
Fax
Mobile
Email bispress.releases@bis.gsi.gov.uk
Name James Platt Job Title
Division Department for Business, Innovation and Skills Phone 020 7215 5978 Fax
Mobile
Email james.platt@bis.gov.uk
Published 17 April 2012