World news story
New Frontiers for Quantum Technology in Biological and bio-inspired Systems.
18 - 19 March, Cambridge University, UK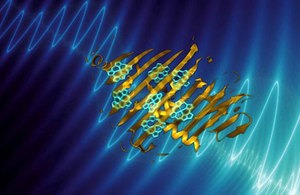 This month, the British Embassy in Berne is promoting international science collaboration in a relatively young and unusual field of research: Quantum Biology. Together with the universities of Cambridge and Surrey, our Science Officer (part of the UK Science and Innovation Network) is organising a two-day international event to review the present state and future directions of research into "quantum effects in living organisms".
What will the event entail? It will review the knowledge and evidence that have been produced by some of the best researchers in this field worldwide, and particularly in Europe. Their theories on quantum mechanics address some of life's most important biological processes and nature's best kept secrets – questions we have all asked ourselves:
How migratory birds get directions by sensing the earth's magnetic fields?
How animals and insects smell odorant molecules in the air to avoid danger or find food?
How plants harvest sunlight and turn it into electrical energy with 100% efficiency?
Beyond those questions, the workshop will explore how Quantum Effects in Biological Systems-like phenomena, (QuEBS), can be artificially engineered at the nanoscale for future (quantum) technologies?
Why are we holding the event? High performing science is at the root of UK prosperity. Knowledge is increasingly developed through cooperation. Through this type of event, we connect the best with the best and strive to stimulate both innovation and growth.
The Quantum Biology meeting in Cambridge will help share results and spread awareness of the theoretical ideas and experimental tools that are available to the scientific community to test and refine concepts.
Research into quantum biology particularly needs to be conducted in a collaborative and inter-disciplinary manner (covering areas typically associated with physics, zoology, chemistry and biology). Knowledge about quantum effects needs to be connected with knowledge from different application domains. Exchange between labs and users is vital for developing new sophisticated experimental techniques and achieving breakthroughs.
By presenting the current state of knowledge in QuEBS, its experimental underpinnings, theoretical framework and major questions, we hope to show how developments in this area impact other disciplines, how it could breed novel types of bio-hybrid devices and also how other quantum technologies could provide valuable and detailed new information in this area.
"@UKEmbassyBerne" "#Qbio"
Published 16 March 2015