Announcement
New freedoms for colleges
From:

Part of:

Published:

17 June 2010
This was published under the 2010 to 2015 Conservative and Liberal Democrat coalition government
Further Education Minister John Hayes has pledged to set colleges free from unnecessary bureaucracy.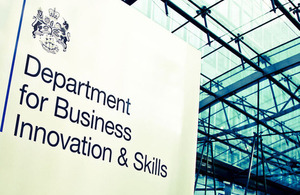 Mr Hayes outlined the first stage of the Government's new skills strategy in a speech today (17 June 2010) at City and Islington College, London.
The restrictions on colleges to be lifted include:
All colleges, apart from poor performers, will be able to move money between budgets. This will allow them to respond quickly to local demand
The government will work to remove the requirement for Ofsted inspections of colleges rated as outstanding, unless their performance drops
The requirement for colleges and training organisations to complete Summary Statements of Activity has been removed
The government will remove the regulatory requirement for college principals to undertake the Principals Qualifying Programme, recognising the range of development opportunities and qualifications open to Principals.
Mr Hayes said:
"Responsiveness is crucial if we are to provide the skills that employers need and students want. Removing unnecessary burdens and freeing colleges to react to local demand will help achieve just that."
Funding priorities
Business Secretary Vince Cable has also written to the Chief Executive of the Skills Funding Agency setting out how government funding for 2010-11 should be spent.
Priorities include:
Increasing the number of apprenticeships places
Reducing the number of 18-24 year olds not in employment, education or training
Encouraging more people to participate in adult and community learning.
The letter also sets out the latest budgets following the Government's announcement that £200m from the Train to Gain budget has been refocused to provide an extra 50,000 apprenticeships this year and £50m more for college building projects.
.
Images are available for re-use by media and bloggers via the BIS Flickr photo album. Photo credit should read: (C) Sacha Schweda - mail@sachaphotography.com
Links
John Hayes' speech

John Hayes interview with The Guardian
Vince Cable's letter to the Skills Funding Agency
(PDF, 1.9 Mb)