News story
New Foresight project to explore lifelong learning
The project will investigate the future of skills and lifelong learning in a digital age.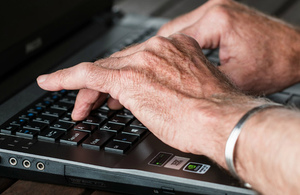 The Government Office for Science's new Foresight project looks at what changes in technology and work could mean for education and training across someone's lifetime, as people in the UK live longer. The project will also look at the role that science and technology can play in understanding this and providing solutions.
Commenting on the project, Sir Mark Walport, Government Chief Scientific Adviser, said:
It's important that the policy government makes now will stand up to challenges in the future. To do this, we need to have an understanding of how things could unfold in the future.

This project aims to provide evidence on lifelong learning in a digital age which will help policy makers make those long term decisions.
This project will begin to develop evidence in the following areas:
the level and mix of skills of the UK and what is likely to be needed over the next 10 to 20 years
the types of digital skills which are needed now and are likely to be needed over the next 10 to 20 years
the critical factors that influence learning across a lifetime
the value of informal learning
implications for different models of responsibility, and how accountability and innovation can be maintained
These areas are likely to develop over the course of the project.
Published 11 May 2016