Press release
New flood warnings service for Skipton and Glusburn
New data allows for more timely alerts during flood risk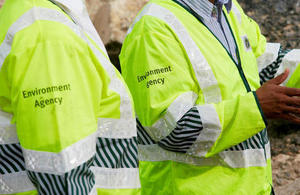 The Environment Agency has added around 1,500 properties in North Yorkshire to their flood warnings service.
People living near Waller Hill Beck and Eller Beck in Skipton, and householders in Glusburn, have been added to the Environment Agency's flood warnings direct system, and should receive an automated message during the next few weeks with more information.
These new warnings have been introduced as part of a regular update process, carried out by the Environment Agency. The update uses new data to provide more timely alerts to help communities to be better prepared for flooding.
Flood warnings are provided for all locations where there is a possibility of river flooding, according to the latest computer modelling, even if the likelihood is very small. The Environment Agency is therefore encouraging residents and local businesses to sign up to receive these early flood alert and warning messages so they can be aware of when flooding is possible.
Residents in both Skipton and Glusburn can find out if they are eligible to receive flood warnings, and then register, by calling Floodline on 0345 988 1188, or by visiting the website www.gov.uk/flood. This website also includes information on how you can prepare and keep yourself safe.
During October and November mobile phone customers of EE in Yorkshire will also be added to the warnings system, if they live in a flood risk area. This will make it easier for people to prepare for flooding, even when they are out and about.
Graham Lindsey, Flood Resilience Advisor for the Environment Agency said:
We've recently started work on the Skipton Flood Alleviation Scheme which will reduce the risk of flooding to more than 500 homes and businesses in the town. However, whilst this work will help to reduce the risk of flooding in Skipton, the risk cannot be eliminated altogether.

Rivers in these communities can rise very quickly after heavy rain, so it's important that people find out whether they are at risk and take steps to prepare. Signing up for our free flood warnings is the first step to protecting your home and family from flooding.
Published 21 July 2015