New flood camera goes down a tweet in Halesowen
Today (11 July 2014), the Environment Agency met local residents who will benefit from a new high tech flood camera in Halesowen.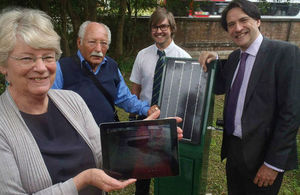 Environment Agency flood officers along with James Morris MP, met with local residents who will benefit from the new high tech flood warning camera installed on the Illey Brook on Manor Way, Halesowen.
The new camera system, which is entirely solar powered and cost £2,875 to create and install, will monitor the Illey Brook to ensure that local residents are alerted if their properties are at risk of flooding. Residents signed up to the Environment Agency's flood warning service will receive an automated call, and those who follow the camera via twitter will receive alerts and photos when the water levels rise significantly.
Speaking about the new camera system, Environment Agency Project Manager, Jamie Sarginson said:
Around 45 properties suffered severe flooding in 2008 along the Illey Brook. Since then both the Environment Agency and Dudley Metropolitan Borough Council have been working closely with the Illey Brook Flood Committee to investigate ways to make the community more flood resilient – and this new camera goes a long way to achieving that goal.
The camera has a high water sensor which will enable us to alert residents approximately 1 hour before water from the Illey Brook reaches the first property. If the correct settings are added to the individuals' twitter account, then they will be able to hear an alert when images or alarms are tweeted from the camera's twitter account. The feedback we've received from residents has been really positive and we hope it makes a real difference for those potentially at risk of flooding.
The community can also view the cameras via Vision Link Ltd – the company that created the cameras. The pages are automatically updated when new images/ alarms are received.
The camera sends images approximately every 4 hours during daylight hours but more images can be requested by Environment Agency staff via the Vision Link mobile site as and when needed allowing us to closely monitor the culvert during an incident.
Published 11 July 2014