World news story
New Falklands Governor sworn in
Nigel Phillips CBE becomes 36th Governor of the Falkland Islands.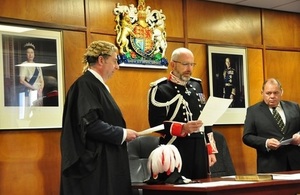 Nigel Phillips CBE has been sworn in as Governor of the Falkland Islands.
Standing before the elected Members of the Falkland Islands Legislative Assembly and representatives of the Falkland Islands Government and private sector on Tuesday 12 September, Mr Phillips took the oath of office to become the 36th Governor of the UK Overseas Territory.
Delivering his first address to the Falkland Islands, Mr Phillips said:
Mr Speaker, Honourable Members, ladies and gentlemen; what a pleasure to be here.

From the moment we arrived, my wife Emma and I have felt welcome.  In fact we felt welcome even before our arrival; I am grateful to MLA Gavin Short for his gracious public comments on the announcement of my appointment in his capacity as Chair of the Legislative Assembly.  

Whilst absolutely thrilled, I am profoundly humbled to have taken the oath of office to become the 36th Governor of these historic Islands.  To be Her Majesty's personal representative, entrusted to ensure that the Constitution of these islands is upheld is a solemn duty.  The Constitution to which I refer has not been imposed, but agreed by the democratically elected representatives of the people.  In so doing, you, the people of these Islands, exercised your right of self determination.  It is entirely proper that you decide how you wish to be governed, now and in the future.

And it is the people that I want to get to know.  I will over the coming months and indeed throughout my entire tenure, visit as many communities on the Islands as possible.  Embracing cultural diversity and promoting unity is vital; through respecting one another we all prosper.  I therefore want to listen to your views, to understand your aspirations, concerns, hopes and dreams.  It is only by doing this that I can faithfully discharge my duty to you.

Whilst listening in order to understand is a commitment I make to you, it will also be a pleasure.  The beauty of the Islands is known well beyond these shores.  It is a gift to be protected of course, too easily can delicate ecosystems be destroyed.  I know that this generation of Falkland Islanders want those that follow to share in the wonderful environment bequeathed to them.   But it is also great to share, and it is easy to see why the Islands enjoy a growing tourist industry with all the benefits that this brings.  I can only hope that ever more people enjoy the warm Falkland Islands welcome that Emma and I have experienced.

Speaking of beautiful places, it is appropriate that I record what a privilege it will be to be appointed Her Majesty's Commissioner for South Georgia and the South Sandwich Islands.  Encompassing as it does the final resting place of one of our greatest explorers and leaders, Sir Ernest Shackleton, it is a region of significant historical interest.  It is also hugely important scientifically.  I am proud as a British citizen that the region is recognised as being managed in accordance with the highest possible standards.  I look forward to working with the Government of South Georgia and the South Sandwich Islands in continuing this noble legacy.

The people of the Falkland Islands are renowned for their self sufficiency.  It is a reputation hard earned and merits respect.  Enduring self sufficiency is founded in part on the possession of alternatives, the ability to turn to something else when required.  Economies are the same, they need to be diverse if they are to prosper in the long-term.  I therefore applaud the FIG in its vision of developing a top class education system here.  Our people are our most valuable asset and this generation have a greater range of skills and knowledge than ever before.  Whether it be traditional  industries such as agriculture and the fisheries, emerging sectors such a hydrocarbons, or wealth creating activity yet to be considered, the Falkland Islands has the means to exploit opportunity as it arises.  I look forward to working with the FIG to help deliver its plans to further develop the economy and the vital infrastructure that underpins it.

Continuing with my theme of looking forward, the Government of the United Kingdom remains committed to the security of these Islands.  The men and women of our armed forces are a visible demonstration of this commitment and I want at this juncture to thank them for their service.  

Reflecting on this commitment, I would contend that the relationship between the Falkland Islands and the United Kingdom is founded on partnership. It is in this spirit that I will work with the Falkland Islands Government, public services, businesses and communities.  It is in partnership that we will face the challenges and opportunities that lie before us, whether that be the United Kingdom's exit from the European Union or developing the Falkland Islands relationship within this region and beyond.  

Indeed, I have learnt through my preparation for this post of the extensive links that exist between the British overseas territories.  The relationships, based on shared values, benefit the Falkland Islands in offering insights and knowledge in how to approach common issues.  I know therefore that you will join with me in expressing solidarity with the people's of the Caribbean so dreadfully affected by Hurricane Irma.  As we left RAF Brize Norton yesterday, we were surrounded by just part of the United Kingdom's extensive cross governmental response to assist the Islands in their recovery efforts amidst extraordinarily challenging conditions.

In just a few months time the Falkland Islands will return to the polls. I look forward to working with the Members of the Legislative Assembly that you choose to represent you. But I also want to learn as much as possible from your current Representatives, supported by the Chief Executive and Civil Service, they have continued to deliver upon the Falkland Islands reputation for good governance.  Please let me on your behalf thank them for their service.  My thanks must also go to Alex Mitham, who has so ably stood in as acting Governor for such a protracted period.

As I draw to a close, let me offer my final thanks to all those who have made today such a memorable occasion; neither Emma nor I will ever forget it.

I will conclude by reiterating my commitment to listen in order to understand, to uphold the constitution of these Islands and to work in partnership with all elements of Falkland Islands and the government of the United Kingdom.

God save the Queen.  God save the people of the Falkland Islands.
In addition to his role as Governor of the Falkland Islands, Mr Phillips will serve as Commissioner of South Georgia and South Sandwich Islands.
Published 14 September 2017