Press release
New export scheme to promote British music overseas now open for business
UK Trade & Investment and BPI today opened up applications to a new Music Export Growth Scheme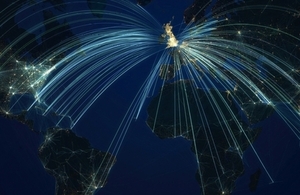 UK Trade & Investment (UKTI) and BPI today (16 October 2013) opened up applications to a new Music Export Growth Scheme, offering £3 million in grants to small-to-medium-sized independent music companies to promote artists overseas.
Adele, One Direction, Coldplay, Florence + the Machine, Ed Sheeran, Mumford and Sons and Arctic Monkeys are just some of the world-beating UK artists who in recent years have helped to accelerate export sales of British music to over 13% of the global market – the largest share apart from the US.
The scheme will build on this British success story by supporting independent labels as they seek to catapult artists that are export-ready into overseas markets and has already prompted huge interest from within the independent music community since it was announced.
The Music Export Growth Scheme, funded by UKTI, the government organisation that supports UK business overseas, and run by BPI, the trade body that represents British recorded music businesses, will make available grants ranging from £5,000 to £50,000 to independent music companies to help them market British music overseas. The scheme is primarily targeted at artists who have achieved reasonable levels of success in the UK but are now looking to break through internationally.
Application forms are now available from the BPI's website. The deadline for the first wave of applications is 18th November 2013.
Applications which are successfully shortlisted will then be reviewed by a panel of music industry experts, chaired by John Kennedy OBE, with marketing expertise from organisations including the Music Managers Forum (MMF) and the Association of Independent Music (AIM) as well as representatives of independent record labels, BPI and UKTI.
The first grants will be awarded by the end of December 2013. Further application rounds will take place periodically over the next 3 years, with the next one planned for Spring 2014.
Chief Executive for UKTI Nick Baird said:
From the classic era-defining sounds of the Beatles and Rolling Stones and such stadium-filling giants as The Who and Queen right up to the recent chart success of Adele, One Direction and Arctic Monkeys, British artists have a proud history of dominating the music scene around the world.

The success of these artists overseas contributes around £100 million to the UK economy annually and the Music Export Growth Scheme will help smaller music labels launch even more UK artists onto the international stage. This will help us reach our target of getting another 100,000 British businesses exporting – an increase which could add £36 billion to the economy.
BPI Chief Executive Geoff Taylor said:
British music is already incredibly successful overseas – 1 in every 8 albums sold around the world last year were by our artists, but even more can be achieved if our vibrant indie sector is supported in promoting break-through talent outside of the UK. Indie labels have helped to create a British music sector that is risk-taking, innovative and at the cutting edge of trends. This scheme will help us take a bigger share of the global market and get more of our artists to countries that have a voracious appetite for the great music that we make.
Enquiries
For BPI: Gennaro Castaldo / Gennaro.castaldo@bpi.co.uk / 020 7803 1326 & 07801 194 139
For UKTI: Ashley Rogers / ashley.rogers@bis.gsi.gov.uk / 020 7215 5971 & 020 7215 3505 (out of hours)
Notes to Editors
How the Music Export Growth Fund will work:
1.Companies will be eligible to apply for the Scheme if they meet the UKTI's criteria on Small and Medium Enterprises (SMEs): annual turnover of €50 million or less and no more than 249 employees.
2.Eligible companies can apply for grants ranging from £5,000 to £50,000 by presenting campaign proposals to a specially-appointed Selection Board. The presentations would need to detail how any grant would be invested in effective marketing and other promotional activity overseas, such as through artist showcases, tour support, social media and publicity. Before agreeing to a grant, the Board members would need to feel persuaded that the plans have every chance of succeeding in meeting their campaign objectives.
3.Companies must part-fund from their own resources, demonstrating their own commitment to the proposed activity. A company will not be able to receive more than 2 grants per year, while the total that it receives over the duration of the scheme may not exceed the state aid limits that apply at the time.
4.The Selection Board, which will be independently chaired through a UKTI appointment, will meet at least 4 times a year to consider applications. It will be made up of a 10 to 15-strong panel of industry experts and representatives from a number of music organisations as well as BPI and UKTI. It will also include a professional/business advisor.
5.The Scheme will be managed by BPI as the Accredited Trade Organisation. This will include marketing the fund and its benefits to the music sector, advising on applications before they are submitted to the Board, administering the disbursement of grants, and monitoring the impact of approved campaigns against agreed performance criteria.
6.The government wants to make the UK the best place to start and grow a business. In the autumn it will launch a public campaign to celebrate GREAT British business success stories. The government wants to inspire other small businesses and point them towards the support that can help them grow. It will also launch a new strategy for how the whole of government will help them. This will set out a range of measures to continue helping build budding entrepreneurs and existing business succeed.
7.In the 2012 Autumn Statement, UKTI was awarded an additional £70 million for each of 2013/14 and 2014/15, enabling the recruitment of more international trade advisers around the country, expansion of existing services including the Trade Access Programme (TAP) and the Overseas Market Introduction Service (OMIS), and support to expand the range of assistance available to UK companies through overseas British chambers of commerce.
8.The government's economic policy objective is to achieve 'strong, sustainable and balanced growth that is more evenly shared across the country and between industries'. It set 4 ambitions in the 'Plan for Growth', published at Budget 2011:
to create the most competitive tax system in the G20
to make the UK the best place in Europe to start, finance and grow a business
to encourage investment and exports as a route to a more balanced economy
to create a more educated workforce that is the most flexible in Europe
Work is underway across government to achieve these ambitions, including progress on more than 250 measures as part of the Growth Review. Developing an Industrial Strategy gives new impetus to this work by providing businesses, investors and the public with more clarity about the long-term direction in which the government wants the economy to travel.
9.UK Trade & Investment (UKTI) is the government department that helps UK-based companies succeed in the global economy. We also help overseas companies bring their high quality investment to the UK's economy – acknowledged as Europe's best place from which to succeed in global business. UKTI offers expertise and contacts through its extensive network of specialists in the UK, and in British embassies and other diplomatic offices around the world. We provide companies with the tools they require to be competitive on the world stage. For more information on UKTI, visit www.ukti.gov.uk or visit the online newsroom at www.ukti.gov.uk/media.
10.About BPI
BPI represents the UK's recorded music industry, which is one of the most exciting and thriving music sectors in the world. British artists account for one in eight albums purchased by fans around the globe. As a trade body, we champion the interests of our membership which includes more than 300 independent music companies and the UK's major record companies.
Together, BPI's members account for 85% of all music sold in the UK. BPI organises the BRIT Awards show and the Classic BRIT Awards show from which substantial proceeds go to the BRIT Trust – the BPI's charitable arm – which has donated almost £20 million to charitable causes nationwide since its foundation in 1989.
Published 16 October 2013