New EU data law must deliver for all
The new EU data protection law must work for business, for government and, most important of all, for individuals.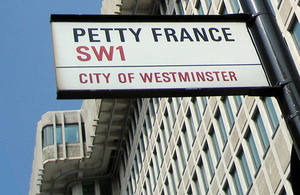 The new EU data protection law must work for business, for government and, most important of all, for individuals, said Lord McNally today.
The Justice Minister was speaking as he published the Government's response to a call for evidence.
The new law to update data protection will apply to the UK- but the Government will negotiate hard in Europe to make sure that the right balance is struck between protecting personal data, without overburdening business or stifling economic growth and innovation.
The call for evidence showed that a revised law in this area is generally welcome, to keep pace with changing technology, but concerns have been raised about the impact of changes- concerns which the Government will now take to Europe.
The Government will support new measures that will improve data protection for UK citizens - giving them confidence that their data will be processed fairly and held to secure standards. Individuals would also be given strengthened rights to delete their personal data and be informed if their data is compromised.
However, the Government believes that more can be done to eliminate unnecessary burdens and will fight in Brussels to make sure the plans don't burden businesses.
Speaking about the call for evidence, Lord McNally (Minister of State for Justice) said:
'I want to thank everyone who responded to our call for evidence and gave us such a broad range of views. It's obvious that whilst there is a lot to welcome in the proposals, organisations and individuals want more clarity about what the changes could mean for them. I have always been clear that the costs and benefits of the Commission's proposals need to be considered carefully, and the evidence we received from organisations will be invaluable in helping us to do this. But what has struck me in all the responses is the genuine wish to get the new data protection law right, to deliver legislation that will work for business, for government and - most important of all - for individuals.'
Negotiations are expected to continue in the EU until 2014 and the Government will be using the information received in the call for evidence to persuade other EU Member States to agree a solution that minimises unnecessary burdens whilst ensuring people's data protection rights are upheld.
Notes to Editors:
In its call for evidence published on 7 February 2012, the Ministry of Justice sought evidence from affected parties on the European Commission's proposed data protection legislation, which was published on the 25 January 2012.
The call for evidence closed on 6 March 2012 and attracted 143 written responses spanning from the general public to consumer groups and large organisations. In addition to inviting written responses to the call for evidence, representatives from the Ministry of Justice took part in a series of discussions and roundtables to hear the varying views from industry and rights groups.
The views received from the call for evidence are being used to help the Government reach an informed view on the EU's proposals. Whilst welcoming the opportunities presented by a new legislative framework, many respondents were concerned about proposals such as the mandatory appointment of data protection officers and reporting data breaches within 24 hours, which they saw as costly and overly-bureaucratic. However, other respondents welcomed the strengthening of people's data protection rights and the safeguards around issues like consent and profiling.
Published 28 June 2012