New era of open government will drive innovation in public services
A landmark agreement that gives councils and public bodies free access to government mapping data will unleash a wave of fresh thinking and …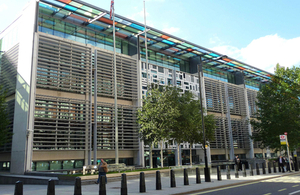 A landmark agreement that gives councils and public bodies free access to government mapping data will unleash a wave of fresh thinking and innovation in public services, Local Government Minister Grant Shapps said today.
The Public Sector Mapping Agreement (PSMA) will allow all parts of the public sector in England and Wales to access national mapping data for free, which when combined with digital technology will pave the way for an increase in new apps and websites that can improve public services.
This data will support a diverse range of services from the digital television switch over to reducing ambulance response times and improving school bus routes.
The new agreement will allow councils to work more collaboratively with private sector contractors and charities to deliver better, more innovative and more efficient local services.
The move forms part of the new Government's pledge to open up officially held information, so councils and public bodies can easily and efficiently improve local services and local people can see at the touch of a button how their local services are doing.
Local Government Minister Grant Shapps said:
We're opening the door to a world of government information that will allow the good ideas of ordinary people to become innovative digital solutions that improve public services.

Easy access to high quality mapping data will trigger an eruption of new public sector mobile apps and digital mash ups that can quickly and cheaply improve local services, from refuse collections to protecting local birds and animals.

And this is just the start. We want ordinary people to come up with their own solutions to local problems that suit their needs. Across government information is being made accessible and useful to as many people as possible in order to increase transparency and accountability. Individuals and communities will be able to get directly involved in issues that matter to them, and demand Government works harder to meet their needs.
Chris Holcroft, Director and Chief Executive of the Association of Geographical Information said:
The Public Sector Mapping Agreement (PSMA) offers enormous opportunity to help maximise the use of geographic information for the benefit of the nation.

Breaking down barriers and better enabling data sharing, the PSMA should help the public sector make better and more transparent decisions and allocate its resources more efficiently, saving time and money. In addition it should stimulate and diversify private sector opportunities to develop related geographic information products and services.

All these are important factors for real social and economic benefits and for wealth generation and innovation in these challenging economic times.
The PSMA will provide free access for public sector bodies to all the national mapping agency's core datasets from April 2011. The new agreement will replace costly and inefficient contracts that many parts of the public sector have with Ordnance Survey, and triple the number of bodies that have access to the mapping data.
Economic analysis shows increased productivity associated with free mapping information increased the real output of local government by over £230m in 2008/09, and the PSMA is expected to multiply these effects further.
Notes to editors
The PSMA includes a broad range of Geographical Information (GI) from Ordnance Survey. It includes OS MasterMap Topography and Integrated Transport Network Layers as well as smaller scales of mapping.

All public sector organisations will continue to have unrestricted access to OS OpenData where they can download and order a range of raster and vector mapping datasets. These include the detailed 1:10 000 scale OS Street View, Boundary-Line, which provides the electoral and administrative geography of the country, and Meridian 2 and Strategi which offer customisable views of Britain's topography.

Improvements in Ordnance Survey's licensing framework will allow the public sector to use the data, and data derived from it, to deliver or support any public sector activity, including where these are delivered in collaboration with contractors, third sector bodies or the public. Members may need additional licences to perform certain, limited activities (commercial or competing activities).
4. Communities and Local Government has entered into a commercial agreement with Ordnance Survey to pay for the PSMA centrally. This means that public sector bodies will not have to pay separate fees to use Ordnance Survey data provided through the PSMA. A 'Transition Plan' for the move to a PSMA from April 2011 has been published today and can be found at: www.communities.gov.uk/publications/corporate/transitionplanaug2010
5. Research commissioned by the Local Government Association Group (Coote, A; Smart, A,2010) has found that the local government output for England and Wales has increased by over £230 million per annum in 2008/09 as a result of the productivity benefits using geospatial information - www.lga.gov.uk/GIresearch (external link).
6. Examples of councils using mapping information to improve local services:
South Tyneside Council
South Tyneside Council has created the 'My South Tyneside' web facility. It is quick and easy to use and includes a "My Nearest' search facility for finding schools, libraries and other local facilities as well as a property search facility based on the Local Land and Property Gazetteer (LLPG). An email alert service enables citizens to receive regular alerts which let them know about local news and changes such as planning applications and road works.
In 2009 the website had 38,295 unique visits and saved the council an estimated £146,669.
Cardiff City Council
Cardiff City Council used mapping information to map school catchment areas and plan routes for the free school bus service and school courier services.
Using OS data has meant children eligible for the free school bus service have been identified quickly and accurately. This has allowed the council to organise transport provision in a more proactive way, optimising the number of buses needed and tailoring bus routes to suit where the city's children live.
Daventry District Council
Daventry District Council has used mapping information to improve refuse collection routes.
This led to a reduction in the mileage travelled by refuse lorries by 12-13 per cent, increased capacity for vehicle washing, and virtually eliminated employee overtime.
Using the mapping information led to combined savings of £95,000. A further £153,000 of savings have also been identified through implementing a 4-day working week for refuse and recycling collections, which will mean the council will no longer need to purchase additional vehicles.
Twitter
Keep up to date with the Department by following us on Twitter (external link).
Media enquiries
Visit our newsroom contacts page for media enquiry contact details.
Published 5 August 2010