World news story
New energy projects in Greece offer opportunities for UK companies
EU announces new funding for 8 projects to improve Greek energy infrastructure.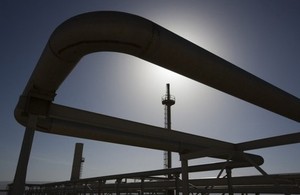 The 8 Greek projects have been included in the European Commission list of 250 energy sector infrastructure projects that could be eligible for funding worth 5.85 billion Euros. The new projects form part of the EU's plan for development of the inter-European energy sector infrastructure.
Opportunities
The new projects will potentially offer opportunities for UK companies active in:
electricity transmission and distribution networks
energy supply
construction of LNG storage plants and pipelines
health & safety consultancy
New energy projects
The following projects have been selected for Greece:
Greece-Bulgaria electric interconnection, via East Maritsa – Nea Santa
Israel-Cyprus-Greece interconnection (Hadera-Attica)
hydroelectric factory in Amphilochia
Komotini – Stara Zagora natural gas interconnection
LNG storage plants in Alexandroupoli and Kavala
interventions to the existing pipelines on the Greek-Bulgarian border between Koula-Sidirokastro
interventions to the plants at Kipoi and to the pipeline between Greece and Italy (ITGI)
natural gas subsea pipeline between Israel-Cyprus-Greece via Crete
Future tenders
All relevant tenders and winning concessionaires will be publicised on the Greece page on the UKTI website.
Interested parties can either bid directly, as part of a joint venture or in a sub-contractor capacity. UKTI Athens is always available to provide UK companies with assistance in liaising with key contacts and major players in the market.
Background
The recent project announcement relate to "common interest projects" for which fast-track licensing and favourable arbitration procedures are anticipated. They will now have access to the "Connecting Europe" funding mechanism endowed with 5.85 billion Euros for inter-European energy sector infrastructures for the period 2014-20.
Contacts
If you are interested in expanding your business into the Greek energy market, or wish to receive further information please contact Mrs Caterina Drossopoulou.
Published 7 November 2013