Press release
New economic pact for Northern Ireland agreed in Downing Street
UK Government and NI Executive announce a new package of proposals to rebalance the NI economy and secure a shared future for all its people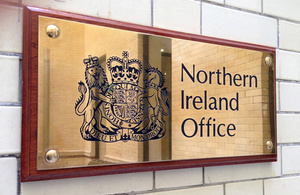 The Prime Minister and Secretary of State for Northern Ireland met the First and deputy First Minster today to announce an ambitious package of proposals to build a stronger economy in Northern Ireland (NI) and secure a shared future for all its people.
'Building a Prosperous and United Community', signed in Downing Street, demonstrates the Government and Executive's shared commitment to help Northern Ireland fulfil its economic potential and ensure lasting peace and prosperity.
The pact is designed to complement measures announced by the First Minister and deputy First Minister in last month's Together: Building a United Community strategy, including on developing youth placements, increasing shared education and housing, and the ten year plan to eliminate so-called peace walls.
Prime Minister David Cameron said:
Next week in Fermanagh, we will show the world an increasingly outward looking Northern Ireland, that is open for business and focusing on the steps it needs to take to succeed in the global race.
This agreement is a symbol of our ambitious vision for Northern Ireland - a genuinely shared society that is fulfilling its economic potential and strengthening the foundations for peace, stability and prosperity for the future.
The Northern Ireland Secretary, Rt Hon Theresa Villiers MP, said:
Northern Ireland has made huge progress in recent years but significant challenges remain, particularly in respect of rebalancing the economy and building a stronger society. So I'm pleased that we're able to announce this significant economic pact just as the eyes of the world turn to Fermanagh for the G8 Summit. The pact reflects the maturing relationship between the UK Government and the Executive and is a symbol of our ambitious vision for a modern, dynamic Northern Ireland.
Today's agreement is aimed at equipping Northern Ireland for the global race for investment, jobs and growth. It also underpins efforts to tackle community divisions and build a genuinely shared future for everyone in Northern Ireland. It will reinforce our efforts, working together to build lasting peace, stability and prosperity.
This pact comes at a time when there are tentative signs that our economy is beginning to heal. Now our joint task is to see these commitments delivered - both on economic projects and on the Executive's shared future plans. So we will continue to work together in moving them forward.
Building a Prosperous and United Community sets out a range of measures to help rebalance the Northern Ireland economy and support the Executive's proposals on shared future, including:
An additional £100 million in capital borrowing powers for the Executive over 2014-15 and 2015-16 to support specific shared housing and education projects.
A further £42 (€50) million in UK funding for the PEACE IV programme and a £154 (€181) million top-up for EU Structural Funds for Northern Ireland for 2014-2020, bringing the total funding for economic and shared future projects through PEACE IV and EU Structural Funds to £550 million.
Continuing Northern Ireland's Assisted Areas Status coverage, which has helped the Executive to create over 3,000 jobs in NI in the last three months alone.
Plans for a major G8 Investment Conference in Northern Ireland in October, to be attended by the Prime Minister.
Measures to boost lending to businesses, including extending the £117 million Start-up Loans Scheme to Northern Ireland and piloting a new version of the Enterprise Finance Guarantee Scheme with a bank in NI.
Unlocking access for Northern Ireland to the Government's £40 billion Infrastructure Guarantee Scheme.
A joint £20 million investment plan for Research & Development projects in Northern Ireland, with a particular focus on aerospace.
A joint programme of work to examine the potential to gift up to 350 surplus MoD houses and bases for use in shared future projects.
Agreement on a mechanism for taking forward the devolution of Corporation Tax before the 2015 General Election, if the Government decides to devolve these powers.
A commitment to examine the potential for devolving additional fiscal powers, with recommendations to be put to Executive and Government Ministers by autumn 2014.
A new way forward on Enterprise Zones, which would allow NI businesses in designated areas to benefit from enhanced capital allowances.
A commitment to take forward a visa waiver pilot to encourage visitors to the Republic of Ireland to visit Northern Ireland.
A new process led by the Executive to ensure the planning system in Northern Ireland supports economic growth.
A substantial programme of work to examine how the financial potential of Belfast Port can be unlocked.
An Executive-led review of business red tape, including recommendations to reduce the regulatory burdens facing businesses, to report by December 2013.
The pact also includes agreement on an investment plan that will mean the UK Government is on course to deliver £18 billion of capital funding for Northern Ireland by 2017.
The Government and Executive will provide an update on the implementation of today's agreement at the G8 Investment Conference in the Autumn. A Summit on progress towards rebalancing the economy and building a shared future for the people of Northern Ireland will be held annually thereafter.
Published 14 June 2013