New domestic violence powers
Local forces will run 12 month trial which gives officers the power to stop perpetrators from contacting victims or returning to their home.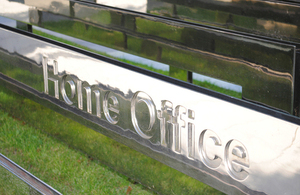 Currently victims of domestic violence only receive immediate protection if the police arrest and charge a perpetrator, and appropriate bail conditions are set or if a civil injunction is sought by the victim. If this does not happen, the only option for victims may be to escape to temporary accommodation.
But the new scheme provides protection in the immediate aftermath.
On the spot notice
A notice can be issued on the spot by police which can stop the perpetrator returning to the home. This gives police time to make a formal application to the magistrates' court for the protection order itself. This can last from a minimum of 14 days up to a maximum of 28.
Minister for equalities Lynne Featherstone said: 'Domestic violence is an appalling crime which sees two women a week die at the hands of their partner or ex-partners, while millions more suffer years of abuse in their own homes.
'This pilot scheme is designed to protect victims in the short term and give them the breathing space to consider their next steps, including longer term protection through a civil injunction application.'
Widespread problem
Domestic violence is a widespread problem and comprised 14 percent of all violent incidences reported in the British Crime Survey last year.
This pilot is just one of the ways in which the government is tackling the issue of domestic violence, as part of its violence against women and girls action plan.
As part of the plan there is a commitment to provide more than £28m of Home Office funding over the next four years for local specialist services to support victims.
This includes £3.3m of funding per year for independent domestic violence advisers, and £900,000 per year for national helplines to support victims of domestic violence.
If you have been a victim of domestic violence, please contact your local police force - or if you have been a victim of Rape, contact your local Rape Crisis Centre.
More about domestic violence protection notices and orders
Published 30 June 2011