News story
New Director of Fair Access proposed
Professor Ebdon has been invited by the Business, Innovation and Skills Select Committee to attend a pre-appointment hearing on Thursday 2 February…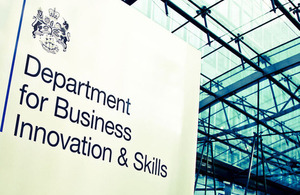 Professor Ebdon has been invited by the Business, Innovation and Skills Select Committee to attend a pre-appointment hearing on Thursday 2 February. The committee will then publish a report setting out its views on the candidate's suitability for the post.
The new Director will replace Sir Martin Harris, whose term of office finishes at the end of April.
Business Secretary Vince Cable said:
"Attracting greater numbers of students to higher education from disadvantaged backgrounds is a key part of this Government's social mobility agenda. The Director of Fair Access has a central role to play in this.
"The current Director, Sir Martin, has successfully established the role and I am very confident that in Les Ebdon we have a strong candidate with a real commitment to widening access."
Universities and Science Minister David Willetts added:
"The appointment of this position is vital to achieving our ambitions for fair access. We announced last year that we would make significantly more resources available to the Office for Fair Access so that it can provide more active challenge and support to universities and colleges and we will work with the new Director to support this.
"I am very grateful to Sir Martin for his excellent work in the role and for staying on whilst we carry out our search for the next Director."
Universities wishing to charge above £6,000 have to demonstrate to the satisfaction of the independent Director for Fair Access the measures they have in place to attract those students from under-represented and disadvantaged groups.
Notes to Editors
The position of Director is a statutory appointee (under section 31 of and Schedule 5 to the Higher Education Act 2004).

The Office for Fair Access (OFFA) is an independent, non departmental public body. Their role is to promote and safeguard fair access to higher education for lower income and other under-represented groups following the introduction of higher tuition fees in 2006-07. The principal mechanism for achieving this is by approving and monitoring 'access agreements'. All English universities and colleges that want to charge above the basic level must have an 'access agreement' approved by the Director of Fair Access.

The Government announced in the White Paper Students at the Heart of the System that it will strengthen OFFA, so that it can provide more active and energetic challenge and support to universities and colleges. We will work with the new Director on the size and structure of OFFA but will make significantly more resources available, increasing capacity up to around four times its original level. This will equip OFFA to use fully its powers to monitor and review Access Agreements and identify and promote best, evidence based, practice. Also, we will ask the new Director to advise on whether OFFA's current powers are the right ones to achieve its statutory goals, or whether some clarification or extension is required.

The Director of Fair Access is a post which falls within the remit of the Commissioner for Public Appointments. The selection process has been conducted according to the principles and provisions set out in the Code of Practice issued by the Commissioner. The Code can be found at http://publicappointmentscommissioner.independent.gov.uk/codeofpractice/index.html. More information about the work of the Commissioner is available at www.publicappointmentscommissioner.independent.gov.uk

As part of the selection process, the Secretary of State for Business Innovation and Skills and the Minister for Universities together interviewed a number of candidates for the position.

Professor Leslie Ebdon CBE DL has been Vice Chancellor and Chief Executive of the University of Bedfordshire (formerly Luton) for eight years. In addition, he has led the University think tank million+ for over four years as Chair.

BIS's online newsroom contains the latest press notices, speeches, as well as video and images for download. It also features an up to date list of BIS press office contacts. See [http://www.bis.gov.uk/newsroom](http://www.bis.gov.uk/newsroom) for more information.
Notes to Editors
Contact Information
Name BIS Press Office Job Title
Division COI Phone
Fax
Mobile
Email NDS.BIS@coi.gsi.gov.uk
Name Jenny Varnham Job Title
Division Department for Business, Innovation and Skills Phone 020 7215 5080 Fax
Mobile
Published 31 January 2012