World news story
New Director General, Department for International Trade, Australia and New Zealand
The British High Commission welcomes a new Director General for Department for International Trade.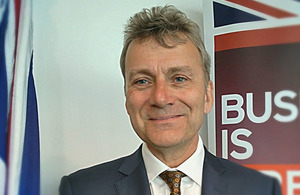 This week the British High Commission in New Zealand welcomes Mr. Michael Ward as Director General, Department for International Trade, Australia and New Zealand, based in Sydney.
Mr. Ward is a career diplomat with a wealth of international experience including a recent posting to France where he was both Director of Trade and Investment and Regional Director, Inward Investment for Europe.
He has also held roles at the UK Representation to the EU in Brussels, as a Foreign Policy Advisor at the European Commission and as Deputy Head of Mission at the British Embassy in Budapest.
Mr. Ward will lead on promoting trade and investment opportunities between the UK and New Zealand and the UK and Australia.
Michael Ward said:
I am delighted to heading up the UK's trade and investment efforts in New Zealand. The UK shares a very special and rich relationship with New Zealand, and I look forward to working with colleagues, partners, industry and government to build this relationship further through trade, investment and wider collaboration opportunities between our two countries.
It is an exciting time to be starting my posting in Australasia as Britain re-defines its place as a global leader and starts discussions to review the future of our trade relationships with both Australia and New Zealand.
You can follow Michael Ward on Twitter
Published 1 February 2017