New digital service to help businesses launch onto global markets
New service will help more UK businesses break onto overseas markets, and take advantage of the global appetite for UK goods and services.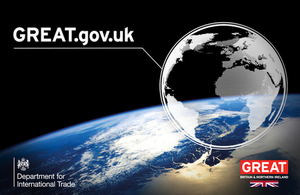 The announcement of a new GREAT.gov.uk platform was made today (14 November) by the International Trade Secretary Dr Liam Fox. The platform will:
give UK businesses secure preferential deals through the Department for International Trade to help them start exporting
provide a brand new searchable export directory to match businesses according to the worldwide demand for different UK goods and services
The launch of the GREAT.gov.uk trade hub for businesses will help them access millions of pounds' worth of potential overseas business, give practical advice, and signpost support to help them win lucrative contracts.
The site will act as a single digital destination for trade and investment, bringing together and connecting UK businesses, international buyers and international investors. Whether businesses are new, occasional or frequent exporters, they will be able to take advantage of the new suite of tools and exclusive deals on fees or commissions with some of world's leading online marketplaces.
By registering, businesses will become part of a brand new searchable directory of UK exporters which government will use to match their products and services with worldwide demand.
International Trade Secretary Dr Liam Fox said:
Maximising the opportunities for international trade is not only in our best economic interests – it's crucial to the UK's future prosperity to ensure we're building and maintaining an economy that works for everybody.

We have always been at the forefront of the free trade-supporting countries in the EU, but despite this only around 11% of registered British businesses currently export beyond our borders.

Some businesses have told us they don't know where to start or how to make the next step onto the global marketplace. That's why we want to support UK businesses large and small as they grow, and help them connect with global demand to fulfil our greatest economic ambitions.

GREAT.gov.uk will show an international audience that we're home to the most dynamic and innovative companies in the world and that Britain is open for business as never before.
Of the 2.5 million businesses registered in the UK, an estimated 360,000 who have an exportable product or service mistakenly believe there isn't a global demand for it.
The government's existing E-exporting programme has assisted over 3,000 companies to become exporters and has delivered export deals totalling £388 million since 2014.
The new digital trade hub is part of a push to help a further 100,000 more UK businesses export by 2020. Through e-exporting alone government intends to deliver an additional 20,000 online exporters and £2 billion worth of value to the UK economy by 2020.
Businesses will be able to access the best advice and financial support through GREAT.gov.uk from government, from public and private sector business champions, and from GREAT partners, all specifically designed to help them to grow and succeed through exports.
Notes to editors:
internationally, the GREAT.gov.uk platform will include in-language information on why and how to invest into the UK, and from 2017 will host searchable opportunities from every region, with more to follow
4 pages for priority markets – India, China, Germany and the US, the world's largest markets – were launched today and have dedicated translated/transliterated content to showcase UK investment opportunities
the Department for Internal Trade has agreements with the 5 major banks – Barclays, HSBC, Lloyds, RBS and Santander – and the 4 big consultancies – EY, KPMG, Deloitte, and PWC – to be GREAT partners and help potential exporters make the most of the opportunities out there
Published 14 November 2016