News story
New Deputy Chair of Competition Commission Announced
The appointment follows both Christopher Clarke and Diana Guy coming to the end of their terms as CC Deputy Chairmen this autumn. Roger Witcomb…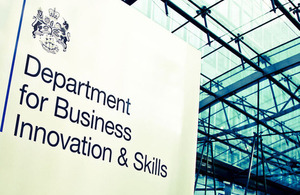 The appointment follows both Christopher Clarke and Diana Guy coming to the end of their terms as CC Deputy Chairmen this autumn. Roger Witcomb has been a member of the Competition Commission since 2009. He has been a non-executive director of a number of electricity and water companies, most recently of Anglian Water, from which he will now resign. He was Finance Director of National Power from 1996 to 2000, having previously worked at BP and at Cambridge University, where he taught economics.
He is currently Chair of Governors of the University of Winchester and a trustee of the microfinance organization Opportunity International.
Edward Davey said:
"I would like to welcome Roger Witcomb to his new post - he will play a crucial role in steering the Commission through an important period. Roger's experience at the Commission will mean that he is in an excellent position to make sure the organisation continues to maintain its high standards as we consult on possible changes to the Competition Regime."
Mr Witcomb said:
"I am excited and honoured to have been appointed Deputy Chairman. The Commission is a great organisation and I will do all I can to ensure that it continues to foster innovation, investment and consumer welfare by ensuring that markets function fairly."
Notes for editors.
The Competition Commission is an independent public body established by the Competition Act 1998. It replaced the Monopolies and Mergers Commission on 1 April 1999.

The Commission conducts in-depth inquiries into mergers, markets and the regulation of the major regulated industries. Each inquiry is undertaken in response to a reference made to it by another competition authority, usually the Office of Fair Trading, or regulators under sector-specific legislative provisions relating to regulated industries. Under the Enterprise Act 2002, the Commission's role was considerably strengthened and widened, especially by giving it a determinative role in respect of remedies to be applied. The Deputy Chair is also a working member of the Commission and sits on its Council, the strategic management board.

Mr Witcomb's appointment as Deputy Chair will be part-time (4 days per week) and will be from 4 January 2011 until 3 February 2013.

From the time of his appointment, Mr Witcomb's remuneration will be £102,640.

All appointments are made on merit and political activity plays no part in the selection process. However, in accordance with the original Nolan recommendations, there is a requirement for appointees' political activity (if any declared) to be made public. Mr Witcomb has not undertaken any political activity within the last five years. He does not hold any other public appointments.

All members of the Competition Commission are subject to the House of Commons Disqualification Act 1975, which disqualifies holders of scheduled public offices from membership of the House of Commons.

The appointment has been made in accordance with the OCPA Code of Practice.

Government will consult in 2011 on possible changes to the Competition Regime including a proposal to merge the Competition Commission with the competition and markets investigation functions of the Office of Fair Trading.

For more information on this appointment contact the Competition Commission on 020 7271 0242 or press@cc.gsi.gov.uk

BIS' online newsroom contains the latest press notices, speeches, as well as video and images for download. It also features an up to date list of BIS press office contacts. See http://www.bis.gov.uk/newsroom for more information.
Notes to Editors
Contact Information
Name BIS Press Office Job Title
Division COI Phone
Fax
Mobile
Email NDS.BIS@coi.gsi.gov.uk
Name Olivia Campbell Job Title
Division Department for Business, Innovation and Skills Phone 020 7215 5363 Fax
Mobile
Published 9 December 2010