News story
New Deputy Chair for the Financial Reporting Council
Notes to editors: The FRC is the UK's independent regulator responsible for promoting confidence in corporate reporting and governance…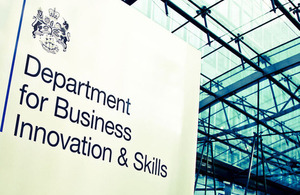 Notes to editors:
The FRC is the UK's independent regulator responsible for promoting confidence in corporate reporting and governance. The FRC and its operating bodies have various responsibilities for setting, monitoring and/or enforcing accounting, auditing and actuarial standards, overseeing the self-regulatory accountancy and actuarial professional bodies and operating independent disciplinary arrangements for public interest cases involving accountants and actuaries. Further details are at: http://www.frc.org.uk/

BIS appoints the Chair and Deputy Chair. Glen Moreno's appointment was made following an open competition. The post of Deputy Chair involves a time commitment of an average of one day a week. The remuneration is determined and paid by the FRC. The appointment is for three years, renewable for a further three years.

The appointment as Chair from 1 May 2010 of the previous Deputy Chair, Baroness Hogg, was announced on 4 December 2009.

All appointments are made on merit and political activity plays no part in the selection process. However, in accordance with the original Nolan recommendations, there is a requirement for appointees' political activity (if any declared) to be made public. Glen Moreno has not been involved in political activity in the last five years.

Glen Moreno has been chairman of international media company Pearson since October 2005 and was appointed as a senior independent director of Lloyds Banking Group in February 2010. He is also a director of Fidelity International and chairman of its Audit Committee. He is a governor of The Ditchley Foundation and a director of the Royal Academy of Dramatic Art.

BIS' online newsroom contains the latest press notices, speeches, as well as video and images for download. It also features an up to date list of BIS press office contacts. See http://www.bis.gov.uk/newsroom for more information.
Notes to Editors
Contact Information
Name BIS Press Office Job Title
Division COI Phone
Fax
Mobile
Email NDS.BIS@coi.gsi.gov.uk
Name Lucy-Michael Sutton Job Title
Division Department for Business, Innovation and Skills Phone 020 7215 5977 Fax
Mobile
Published 18 November 2010