New dawn in legal sector will give boost to UK business and customers
The public are set to benefit from modern, joined-up legal services after Jonathan Djanogly announced the start of radical changes.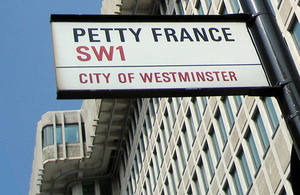 Mr Djanogly heralded a new era for legal services with the launch of Alternative Business Structures, which for the first time will enable law firms to secure outside investment to work in partnership with professionals from other industries, such as retailers, to offer a competitive service to customers.
In the future customers will find legal services more accessible as businesses like high street shops, supermarkets and internet firms will be able to offer a joined-up legal service alongside their other products.
Mr Djanogly said:
'This is a landmark day for the UK legal industry.
'Our legal services are already rated among the best in the world, used by millions of people around the globe as well as in the UK, and these changes will set them up to move to new heights. They will enable firms to set up multi-disciplinary practices and provide opportunities for growth.
'Potential customers will find legal services become more accessible, more efficient and more competitive.'
The changes launched today mean:
More choice for consumers in how and where they access legal service providers;
Existing restrictions which mean legal professionals must operate in purely legal firms will be removed - meaning lawyers can work in mixed-practices offering, for example, financial, legal and other advice or be based at different kinds of businesses, like supermarkets;
Legal firms will be able to receive outside investment for the first time, with greater opportunities for international investment into the UK legal services sector;
Opportunity for economic growth in the industry and a chance to raise the profile of the UK as a first class legal services market.
The first applications from firms who want to take advantage of the new rules are expected from today.
The new business structures are backed by a far-reaching complaints and regulation system so that consumers can be confident of the quality of service provided by lawyers working in these new kinds of law firms. The Legal Services Board will oversee the regulation of firms and the Legal Ombudsman provides a complaints service with robust protections in place for consumers.
Notes to editors
From today, the Council for Licensed Conveyancers can issue licenses to firms that meet the criteria, to operate as an Alternative Business Structure.
Published 6 October 2011