Press release
New crime unit to investigate corruption affecting developing countries
The International Corruption Unit will be the central point for investigating international corruption in the UK.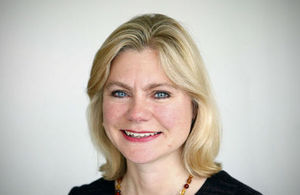 The UK is stepping-up its work to investigate cases of international corruption affecting developing countries through a new specialist unit launched by International Development Secretary Justine Greening.
The new International Corruption Unit (ICU) brings together existing investigation and intelligence units funded by the Department for International Development (DFID) from the Metropolitan Police Service, City of London Police and National Crime Agency. The multi-agency team will be operated by the National Crime Agency and be the central point for investigating international corruption in the UK.
Justine Greening, International Development Secretary said:
Corruption is not only picking the pockets of the poor, it is an enemy of prosperity and a brake on a country's development. Through the international corruption unit, the best of British law enforcement will step up our aid work combatting corruption head on across the developing world.
Jon Benton, Joint Head of the ICU, said:
The work we're doing is absolutely vital for helping countries get back what is rightfully theirs.

The message to individuals and companies who see developing countries as fair game is that the UK has zero tolerance for overseas bribery and corruption.
Since 2006, DFID-police units in the UK have investigated more than 150 cases of overseas bribery and recovered £200 million of stolen assets as well as successfully prosecuting 27 individuals and one company.
DFID will provide £21 million to the ICU for 5 years to 2020. The combined intelligence and investigation approach is expected to deliver a significant increase in money laundering and overseas bribery cases; a greater focus on preventive action; and a more strategic approach to identifying and tackling corruption in DFID priority countries.
Notes to editors
Since 2006 DFID has funded dedicated anti-corruption units in the Metropolitan Police and the City of London Police. These units focused on:
Recovering and returning money that is stolen from developing countries and laundered through the UK and bringing the perpetrators to justice.

Investigating the minority of UK nationals and companies who engage in bribery or other corrupt practices in developing countries and ensuring that they are held to account.
General media queries
Follow the DFID Media office on Twitter - @DFID_Press
Published 9 August 2015