A new set of court statistics published today support the case for a comprehensive reform programme across the justice system.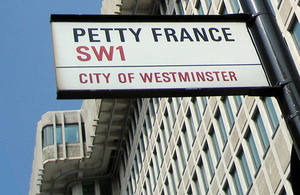 For the first time, quarterly court statistics show the average length of civil and family cases at every County Court, and the duration of criminal cases at every Crown Court and local magistrates' court group.
The figures will allow people to see how quickly cases are handled at their local court, and to compare it to other courts across England and Wales.
The new timeliness statistics showed that in July to September 2011, on average:
Care proceedings took 55 weeks

Hearings for small claims (under £5,000) in civil courts took place 30 weeks after the claim was originally made. The figure was 57 weeks for higher value cases, which are dealt with by a different process

Criminal cases were completed 152 days after the offence.
Ministers have committed to a series of reforms across the family, civil and criminal justice systems. Measures include improved technology, more use of mediation to solve civil and family disputes, and simplifying processes to reduce delays and frustration for victims and witnesses of crime.
Courts Minister Jonathan Djanogly said:
'The figures released today show that sometimes the court process can simply be too time-consuming. That is why we have a comprehensive reform programme underway.'
View the quarterly statistics.
Read the full press notice.
Visit the Open Justice website.
Published 12 January 2012