News story
New Commissioner appointed for the Criminal Cases Review Commission
Stephen James Leach has been appointed as a new Commissioner for the Criminal Cases Review Commission.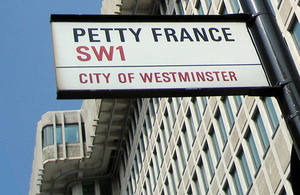 We are pleased to announce that Stephen James Leach has been appointed by Her Majesty the Queen to be a Commissioner of the Criminal Cases Review Commission (CCRC).
Mr Leach will start his appointment on 28 April 2014, which is subject to clearance. The tenure of this appointment is five years with an annual remuneration for the appointments is £93,796 and is payable pro-rata at a daily rate of £358.
This appointment was made in accordance with the Code of Practice of the Commissioner for Public Appointments.
The CCRC was the first statutory body in the world created to investigate possible miscarriages of justice and, where appropriate, to refer cases back to the appeal courts. It remains one of only three such bodies in the world and covers England, Wales and Northern Ireland. The others are in Scotland and Norway.
Biography of Stephen James Leach
Stephen Leach is a retired senior civil servant and was Chair of the Northern Ireland Criminal Justice Board from 2000 to 2009. He is currently a Non Executive Director of the Northern Ireland Health and Social Care Board (chairing the Board's Audit and Governance Committees) and a Parole Commissioner.
Published 15 April 2014