New Chief Regulator at Ofqual
Dr Jo Saxton has taken up her post at England's independent qualifications regulator.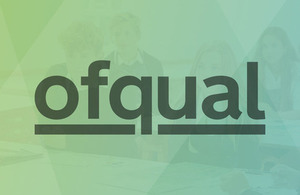 Ofqual's new Chief Regulator, Dr Jo Saxton, has taken up her post at England's independent qualifications regulator.
The former Ofqual board member and government education policy adviser took up her role on 18 September, following interim Chief Regulator Simon Lebus.
Dr Saxton said:
"I believe in the power of education to transform life chances, which is why I'm so passionate about qualifications.
"As chief regulator, pupils and students will be at the heart of every decision we make at Ofqual: their best interests will be my compass.
"The Ofqual kitemark gives confidence to learners choosing their next step and to employers making recruitment decisions.
"I am looking forward to building on the work of my predecessor Simon Lebus and the team at Ofqual."
Dr Saxton has led inner-city and coastal schools, and during the coronavirus (COVID-19) pandemic was adviser at the Department for Education, working on a range of policies from academies and regulation through to qualifications and the establishment of Oak National Academy.
Interim Chair of Ofqual Ian Bauckham CBE added:
"I'm thrilled to welcome Dr Saxton to Ofqual, as we settle in to a new academic year.
"As a former educator and Ofqual board member, I have no doubt that she will provide insightful leadership to Ofqual."
Before working with academies and schools, Dr Saxton taught and examined at universities in England and the United States of America. She holds a PhD from New York University and an undergraduate degree from the University of Cambridge.
Published 20 September 2021