New Chief of the Defence Staff and MOD Permanent Secretary take over
General Sir David Richards has assumed the appointment of Chief of the Defence Staff today, Friday 29 October 2010, and Mrs Ursula Brennan takes over as the MOD's Permanent Secretary on Monday 1 November 2010.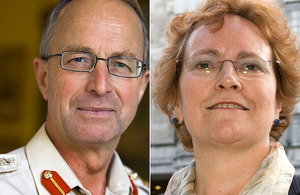 General Richards takes over from Air Chief Marshal Sir Jock Stirrup who is retiring after four-and-a-half years in the post and after more than 40 years service in the Armed Forces.
Mrs Brennan takes over from Sir Bill Jeffrey who retires after five years in the role and close to 40 years in the Civil Service.
Defence Secretary Dr Liam Fox said:
Air Chief Marshal Stirrup and Sir Bill Jeffrey have both served this department with distinction and I am sincerely grateful for the excellent leadership they have both shown during a demanding time for Defence.
Sad though I am to see them leave the Department, I am extremely pleased to welcome two such capable replacements; I know that General Sir David Richards and Ursula Brennan will provide strong and confident leadership at a time of great change for the Armed Forces.
Published 29 October 2010