News story
New Chief Fire and Rescue Adviser appointed
Peter Holland CBE, former Chief Fire Officer of Lancashire Fire and Rescue Authority, will succeed Sir Ken Knight on 28 January 2013.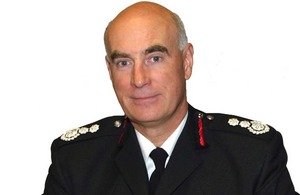 Fire Minister Brandon Lewis has today (22 January 2013) announced the appointment of Peter Holland CBE, former Chief Fire Officer of Lancashire Fire and Rescue Authority, as the next Chief Fire and Rescue Adviser.
In his role, Peter will provide professional advice and support to senior officials and ministers on a range of matters including fire policy, national resilience, fire safety, and the inspection of Crown premises. Peter will also provide advice and support to the government in the event of any national emergencies. Peter succeeds Sir Ken Knight who has held the post since 2007.
Commenting on the appointment Fire Minister Brandon Lewis said:
"I am delighted that Peter will be joining us in January. Fire and rescue authorities deliver incredibly important local services and play a vital role in national resilience. Peter's appointment is crucial to helping them do this as well as supporting key policies such as the decentralisation of power from Whitehall, promoting local accountability and transparency and helping fire and rescue authorities be as efficient as possible.
"I would like to pay tribute to the fantastic work done by Sir Ken Knight who in his time as Chief Fire and Rescue Adviser has done so much to ensure that we have fire and rescue services that are the envy of the world, including, most recently, an enormous contribution to the resilience planning for the Olympics. I am sure that Peter will continue the exceptional work that Sir Ken has done."
Peter joins the Department for Communities and Local Government following a career in fire and rescue spanning more than 40 years. His wide-ranging experience includes front-line fire-fighting, senior management, the leadership of 2 brigades, International President of the Institution of Fire Engineers, and a national role as President of the Chief Fire Officer's Association.
Peter Holland said:
"I am honoured to be joining the department in this important role and am looking forward to bringing my experience in fire and rescue to help support and shape the government's agenda for what is a vital and life-saving public service."
Further information
The Department for Communities and Local Government is the lead government department for fire and rescue matters.
Peter Holland, CBE commences work at the department on 28 January 2013 following his retirement as Chief Fire Officer at Lancashire Fire and Rescue Authority.
The appointment follows a competitive recruitment round and Peter Holland will be employed on a 2-year contract as a senior civil servant.
Sir Ken Knight, the outgoing Chief Fire and rescue Adviser, will remain employed by the department until the spring to complete the efficiencies and operations review announced on 14 December 2012.
Published 22 January 2013