Press release
New chief executive for the Biotechnology and Biological Sciences Research Council
Dr Jackie Hunter CBE appointed as chief executive and deputy chair of the Biotechnology and Biological Sciences Research Council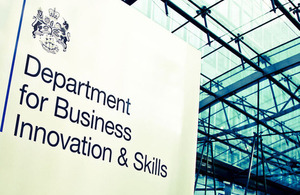 Minister for Universities and Science David Willetts today announced the appointment of Dr Jackie Hunter CBE as chief executive and deputy chair of the Biotechnology and Biological Sciences Research Council (BBSRC).
David Willetts said:
I am delighted to welcome Dr Hunter as the new chief executive of BBSRC. Her knowledge and experience will be vital in leading an organisation that funds world-class science to tackle some of our major challenges, from climate change to ageing populations.
Dr Hunter said:
The BBSRC plays a vital role in shaping and underpinning the diverse and exciting science base that is essential to maintain the international reputation of UK bioscience and biotechnology. The potential of this research, and the BBSRC investments in innovation, to support the UK's growing bioeconomy and socio-economic challenges is huge. I am looking forward to working with the wealth of talent within BBSRC, the research community and its many partner organisations to drive forward UK bioscience.
BBSRC Chair Professor Sir Tom Blundell said:
Jackie Hunter will bring to the role of CEO of the BBSRC an impressive knowledge of and enthusiasm for fundamental bioscience, many successes in its translation in both large and small companies, and much experience of leadership of scientific research in large organisations. I look forward to working with her.
The appointment is for four years. Dr Hunter will take up post on 21 October 2013 as the permanent successor to Professor Douglas Kell.
Notes to editors
1.Dr Hunter's appointment was made following an open competition.
2.Dr Hunter is currently Chief Executive of OI Pharma Partners. From 1989-2010 she worked for GlaxoSmithKline and its predecessor companies and earlier in her career for Astra (now AstraZeneca). Dr Hunter received her degree and doctorate from the University of London. She was made CBE in 2010 for services to the pharmaceutical industry. She sat on the BBSRC Council from 2004-2010.
3.BBSRC invests in world-class bioscience research and training on behalf of the UK public. Its aim is to further scientific knowledge, to promote economic growth, wealth and job creation and to improve quality of life in the UK and beyond.
4.Funded by government, and with an annual budget of around £500 million (2012-2013), it supports research and training in universities and strategically funded institutes. BBSRC research and the people it funds are helping society to meet major challenges, including food security, green energy and healthier, longer lives. Its investments underpin important UK economic sectors, such as farming, food, industrial biotechnology and pharmaceuticals. For more information see http://www.bbsrc.ac.uk.
5.The government's economic policy objective is to achieve 'strong, sustainable and balanced growth that is more evenly shared across the country and between industries'. It set four ambitions in the 'Plan for Growth' (PDF 1.7MB), published at Budget 2011:
to create the most competitive tax system in the G20
to make the UK the best place in Europe to start, finance and grow a business
to encourage investment and exports as a route to a more balanced economy
to create a more educated workforce that is the most flexible in Europe.
Work is underway across government to achieve these ambitions, including progress on more than 250 measures as part of the Growth Review. Developing an Industrial Strategy gives new impetus to this work by providing businesses, investors and the public with more clarity about the long-term direction in which the government wants the economy to travel.
Published 4 June 2013