News story
New Chief Executive announced for the Natural Environment Research Council
Vince Cable said: "I am very pleased to welcome Professor Wingham as the new Chief Executive of the Natural Environment Research Council. His…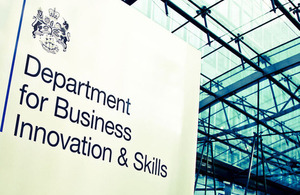 Vince Cable said:
"I am very pleased to welcome Professor Wingham as the new Chief Executive of the Natural Environment Research Council. His expertise will be of great benefit as he builds on NERC's achievements and leads the organisation over the next four years.
"NERC tackles the world's major environmental issues such as climate change, biodiversity and natural hazards, providing independent research and training in the environmental sciences."
Minister for Universities and Science David Willetts said:
"I'm delighted to welcome Professor Wingham as the new Chief Executive of the Natural Environment Research Council. His knowledge and expertise will be vital in leading an organisation that funds world-class science and increases knowledge and understanding of the natural world."
Professor Duncan Wingham said:
"It is an honour to be offered the role of NERC Chief Executive. Environmental science lies increasingly at the heart of many of the challenges and opportunities that face us today, and NERC must continue to play a leading role in developing this science, and ensuring the widest possible impact of its work. I am very much looking forward to the exciting possibilities and challenges that lie ahead."
NERC Chair Ed Wallis said:
"I am delighted to welcome Professor Duncan Wingham as the new Chief Executive of NERC. Duncan's international scientific contribution and reputation, strategic science leadership and vision make him ideally suited to drive forward the delivery of NERC strategy. He has demonstrated his wealth of knowledge across the environmental sciences as the current Chair of our Science and Innovation Strategy Board, and will lead NERC to the next stage in our strategic development."
The appointment is for four years. Professor Wingham will take up post on 1 January 2012 as the permanent successor to Professor Alan Thorpe who stepped down from NERC on 30 June to take up the position of Director General of the European Centre for Medium-Range Weather Forecasts. Dr Steven Wilson is the current interim Chief Executive.
Notes for editors
Professor Wingham's appointment has been made following an open competition.

Professor Wingham** **received a B.Sc. from the University of Leeds in 1979, and a Ph.D. from the University of Bath in 1984, both in physics. He joined University College London in 1986, where he held lecturing posts at the Mullard Space Science Laboratory and the Department of Electronic and Electrical Engineering. He was appointed as a Chair in the Department of Space and Climate Physics in 1996, and was Head of the Department of Earth Sciences at UCL from 2005 to 2010. He was founder and Director of the NERC Centre for Polar Observation and Modelling (CPOM) from 2000 to 2005, which among other things discovered the widespread mass loss from the West Antarctic Ice Sheet and its origin in accelerated ocean melting. He is currently Chairman of the Science and Innovation Board of NERC and, since 2000, the Lead Investigator of the ESA CryoSat and CryoSat-2 satellite missions.

NERC is the UK's main agency for funding and managing research, training and knowledge exchange in the environmental sciences. It coordinates some of the world's most exciting research projects, tackling major issues such as climate change, environmental influences on human health, the genetic make-up of life on earth, and much more. NERC is a non-departmental public body, which receives funding from the Department for Business, Innovation and Skills (BIS). Working internationally, NERC has bases in the most hostile parts of the planet. They run a fleet of research ships and aircraft and invest in satellite technology to monitor gradual environmental change on a global scale. NERC provide knowledge, forewarning and solutions to the key global environmental challenges facing society.

BIS's online newsroom contains the latest press notices, speeches, as well as video and images for download. It also features an up to date list of BIS press office contacts. See http://www.bis.gov.uk/newsroom for more information.
Notes to Editors
Contact Information
Name BIS Press Office Job Title
Division COI Phone
Fax
Mobile
Email NDS.BIS@coi.gsi.gov.uk
Name Sally Catmull Job Title
Division Department for Business, Innovation and Skills Phone 020 7215 6577 Fax
Mobile
Published 22 November 2011