New Chief Economist announced for DIT
Richard Price has today (25 November 2016) been appointed Chief Economist and Head of Analysis at the Department for International Trade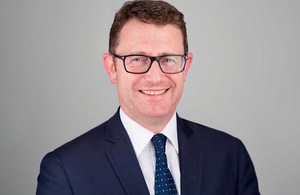 As part of the department's ongoing drive to build capability across all corporate areas, Richard Price has been appointed as the Chief Economist and Head of Analysis at the Department for International Trade (DIT).
Richard Price brings with him a broad range of experience in the application of economic analysis to policy making that will help build DIT's economic and analysis team and shape the UK's trade and investment agenda.
For the past five years Richard served as Chief Executive of the Office of Rail and Road, the transport regulator. Prior to that he was Chief Economist at the Department for Environment, Food and Rural Affairs (DEFRA), having previously worked in a number of government departments including Home Office, Cabinet Office and the Treasury.
Richard has helped to shape policy-making that promotes the UK as a place to do business and invest, worked on opening new markets in transport and other sectors, and managed the trade components of the Treasury's forecasts.
International Trade Secretary Dr Liam Fox said:
Richard Price brings a wealth of experience in leading teams focusing on high profile and important government policy. His economic expertise will be vital in building the analytical capability of the department.
As Chief Economist, his team's crucial work will directly support the development and delivery of the UK's international trade policy as we move towards leaving the EU.
Richard Price said:
It's a privilege to join the department at this critical time, working to promote free and open trade and to counter protectionism. I look forward to helping more UK businesses to thrive in global markets and promoting the UK as an international destination for trade, business and investment.
Richard's career
Richard Price joined the Civil Service after gaining his MSc in Economics. He spent four years at HM Treasury, working on tax, trade policy and climate change, before moving to work as a consultant for NERA Economic Consulting, where he advised businesses and governments on the economic regulation of large infrastructure projects and utilities.
He returned to the Treasury as a senior policy adviser before moving to the Home Office as Chief Economist and then Strategy Adviser to the Permanent Secretary, working among other things on the funding and performance framework for the police. He later became a project director at the Prime Minister's Strategy Unit and then led the Treasury's Enterprise and Business team, working on the development of industry and enterprise policy to drive UK economic growth and trade.
At DEFRA Richard held the dual posts of Chief Economist and Director of Corporate Performance, raising the department's efficiency and impact, and contributing to both domestic and global policy on climate change.
Published 25 November 2016