World news story
New Chevening Alumni Board in Argentina
We are pleased to welcome the new Board, whose members are already organizing the association's activities for the coming year.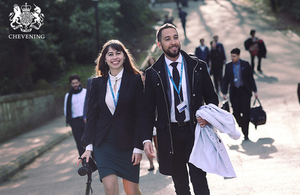 On 22 June, Chevening Alumni Argentina elected new authorities for the period 2016-2017. Rodrigo Tosti Ibañez was elected chairman with 94% of the votes, together with Marcela "Popi" Delgado as his deputy.
Continuing with the steady increase in votes over the past few years, a new record turnout was achieved this year.
Governing Board 2016/2017
Chair:
Rodrigo Tosti Ibáñez - MBA, University of Oxford (Christ Church), 2012-2013
Vicechair:
Marcela "Popi" Delgado - MSc in Public Service Policy and Management, King's College London, 2012-2013
Members:
Axel Hatrick - MSc in Law and Finance, University of Oxford, 2012-2013

Andrea Rispo - MSc in Integrated Environmental Studies, University of Southampton, 2012-2013

Bárbara Aubert Casas - LLM in Public International Law, King's College London, 2011-2012

José Ignacio Costa - MSc in Public Policy and Administration, LSE, 2008-2009

Martina Ferrarino - MSc in International Development ant Humanitarian Emergencies, LSE, 2014-2015

Andrés May - MSc in Management in Information Systems and Digital Innovation. LSE 2014-2015

Alejo Rodríguez Cacio - MSc in Economics, University of York, 2006-2007

Federico Salcedo - MSc in Public Management, University of Birmingham, 2011-2012

Carlos Gentile - Hansard Research Programme, LSE, 2008

María Alegre - Hansard Research Programme, LSE, 2008

Hernán Blejer - MSc in International Political Economy, LSE, 1995-1996

Javier Alvarez - MA in Environmental Politics and Globalisation, King's College, 2005

Rodrigo Herrera Bravo - Diploma in Government, University of Manchester, 1991

Paula Atlante - International House, 1995

Eduardo Boccardo - MSc in Comparative Politics, LSE, 2007

Andrés Gartner - MSc in Transport, Imperial College/UCL, 2013-2014
Ambassadors in the provinces:
Maria Lourdes Lodi (Santa Fe) - MA in Democracy, Politics & Governance, Royal Holloway – University of London, 2006-2007.

Tomás Lanardonne (Patagonia) - LLM in Energy Law & Policy, University of Dundee, 2012-2013

Manuel Arias (Entre Ríos) - MA in Industrial Relations & Personnel Management, University of Warwick, 2004-2005

Alejandra Conti (Córdoba) - Master in International Journalism, City University London, 1993-1994

Laura Porrini (Córdoba) - MSc in Development, Administration and Planning - University of Bristol, 2003-2004.

Alejandro Danon (Argentine Northwest) - MSc in Economics, LSE 2011-2012

Carolina Barbuzza (Cuyo) - MSc in Water & Wastewater Engineering, Cranfield University, 2001-2002
We would like to remind Chevening alumni that you can also access Chevening's online global platform
Contact the alumni association:
Published 11 July 2016